There's Still One More New Console Waiting To Be Released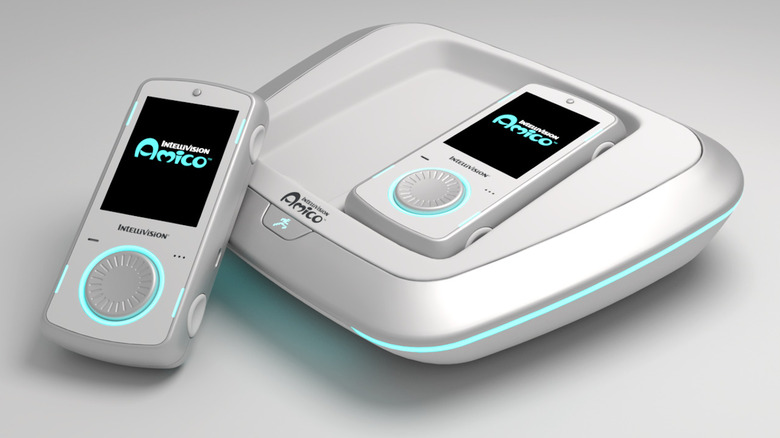 The COVID-19 pandemic has had a massive impact on gaming, throwing many wrenches into the plans of console manufacturers. But there's one console that has had its sale prevented entirely. The new Intellivision Amico console will be delayed until Oct. 10, 2021, exactly one year from its original planned release, CEO Tommy Tallarico said in a video statement on Wednesday.
"As everyone knows, it's been extremely challenging for everyone around the world over the past 12 months, and Intellivision is no different," Tallarico said. "In fact, here we are trying to launch a brand new product, which is complex and unique, but also running a company and keeping all of our employees safe during this time as well."
Lat summer, the company announced that the Amico would be delayed until April 2021. But a combination of factors connected to the pandemic ultimately delayed the new console's release even further, the Amico team said. Manufacturing, distribution, and marketing were all simultaneously affected by worldwide quarantines, ultimately leading to the company's decision to push the date back. 
"We have hundreds of components in Amico and it's been an ongoing challenge to source all of those in a timely manner," explained Todd Linthicum, Amico Director of Product Development Todd Linthicum. "And this is due in part because there's a global pandemic and there's really a scarcity of components out there and the biggest companies in the world are literally fighting over a limited supply."
First announced in 2018, the Intellivision Amico was advertised as a family-friendly and user-friendly console designed for larger, in-person "game nights" — the kind of thing made difficult by COVID. Starting at $249, the console will come with two controllers, with the option to connect up to eight total players to the console at one time, according to an Amico FAQ page. Additional players can join the game with their mobile device by downloading the Amico app on Android and iOS. The Amico will come with six games pre-installed. Some of the games Intellivision announced over the summer include Earthworm Jim 4, Sesame Workshop, and Mattel Hot Wheels, among others.
According to Amici's FAQ, the unusual looking console will come with 16 gigabytes of internal memory with the option to add an expansion. Unlike most newly released consoles, the Amico won't require an internet connection to play games, but it will need one when purchasing and downloading new ones.
"We're introducing a new experience with Intellivision Amico to the entire world, and the burden is on us to do that as effectively and efficiently as possible," Chief Marketing Officer Robert Johnson said in the new video announcement. "And you don't get a second chance to make first impressions."