Henry Cavill's Tease Has Gaming Fans Fired Up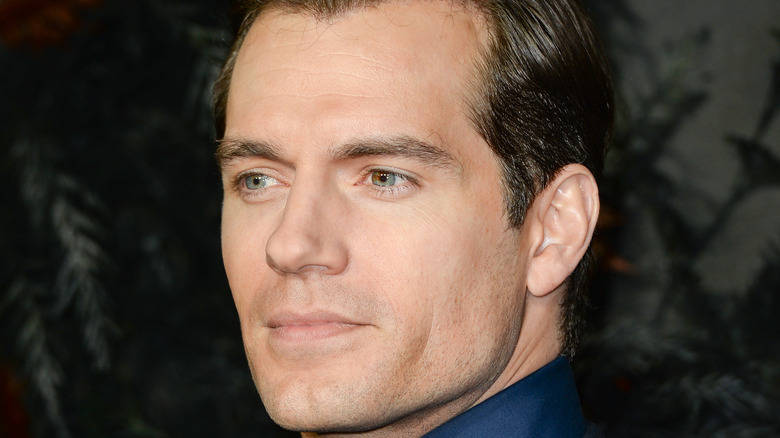 Eamonn M. Mccormack/Getty Images
English actor Henry Cavill has built quite a career for himself, playing famous characters like Superman, Sherlock Holmes, and Geralt the Witcher. Now, a new Instagram post has fans wondering if the actor has become attached to yet another hugely popular franchise: Mass Effect.
In the post, Cavill is seen being fitted with the long wig that he wears as Geralt. He's reading a stack of papers, but the words on them have all been blurred out. However, Cavill seems to have known that fans would be intrigued by his reading material. The caption on the picture reads, "Secret project? Or just a handful of paper with random words on it.... Guess you'll have to wait and see."
This post might have been enough to send fans scrambling for answers, but some sleuthing from the folks over at Game Pressure seems to have uncovered exactly what kind of project it is that Cavill was teasing. By using a program called Focus Magic, Game Pressure has been able to clear up a decent chunk of the text on the piece of paper in Cavill's hand. BioWare fans may immediately recognize some of the terminology on the paper, as words like "Geth" and "Tali'Zorah" unmistakably link this text to the Mass Effect series.
A member of Game Pressure's editorial staff revealed that the piece of paper contained an excerpt from Mass Effect's Wikipedia page, which raises even more questions. If Cavill were reading through a script, that would be one thing. Instead, it appears as though the actor is doing research for a new project. Perhaps a film adaptation of the Mass Effect series is on the horizon, or maybe Cavill has been offered a voice role in the new Mass Effect game, which is currently in development.
Whatever the case, fans are going wild with speculation. Some gamers are already hoping that he's playing lead protagonist Commander Shepard in a film adaptation, while others have theorized that he will be recording his voice for an upcoming game. Meanwhile, many fans seem to be concerned that a Mass Effect project would keep the actor from appearing as Superman again.
It is currently unclear what kind of Mass Effect project Henry Cavill has joined, if any. He could just be reading a printed Wikipedia page to pass the time. Either way, the actor's social media post has added another heft piece to the Mass Effect rumor mill.