This Popular YouTuber Just Became A Fortnite Skin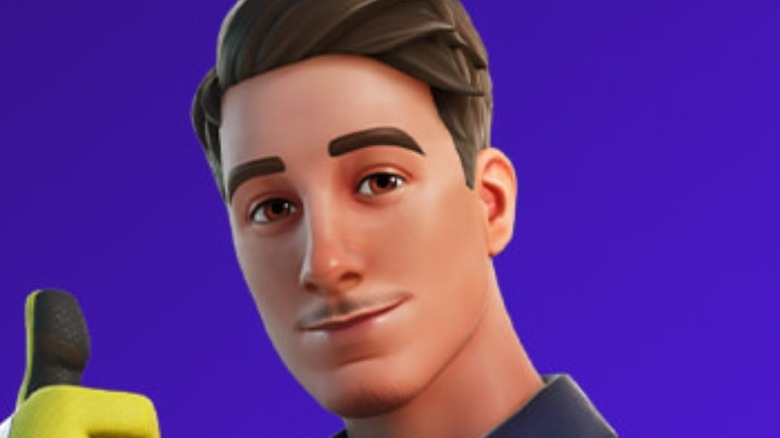 The free-to-play battle royale Fortnite has released some iconic skins in the past, some of which have gone on to become quite rare. In particular, Epic Games has released popular skins based on popular content creators, including Ninja.  Now a skin based on popular Australian Fortnite player LazarBeam has been added to Epic's Fortnite Icon Series.
Epic's official announcement revealed that there would be five pieces to this release: the Lazarbeam Outfit, an alternate "RelaxedBeam" version of the skin, the Lunch Break Emote, the Ol' Mate Sledgy Pickaxe, and the Baby Gingy Back Bling. These items will be available as a set in the Fortnite Item Shop, but players will also be able to get each item individually.
That won't be the only way to nab the items, however. Epic has also announced that Lazar and Fresh's Super Knockback tournament will take place on March 3, and the winning teams will be able to win the bundle a day early. The tournament is named for LazarBeam's personal favorite weapon in the game, the Flint-Knock Pistol. 
In this tournament, the weapons will be more powerful versions of the knockback weapon, and players will be able to use Emotes to heal after taking damage. According to Epic, there will be plenty of opportunities for players to get in on the Super Knockback action. There will be a three hour time period that players can participate that's based on player region, and up to ten games can be played during that time. The goal for players will be to score as many points as possible during those ten games, based on a specific scoring system devised by Epic. 
LazarBeam took to YouTube to announce his skin line, and he explained that he used to work in construction – in fact, his entire family came from a similar background. The design of the new skin, according to LazarBeam paid homage to his background, and even his real-life tattoo will be a part of the skin.
Icon Series skins tend to be a pretty big draw for Fortnite. In fact, the skin based on TheGrefg broke records when it was revealed in January 2021. As Fortnite continues to age, the game continues to do a lot to bring in players and give old players new reasons to keep playing in 2021, and these skins are definitely a part of that.