This Infinity War Actress Just Joined The Borderlands Movie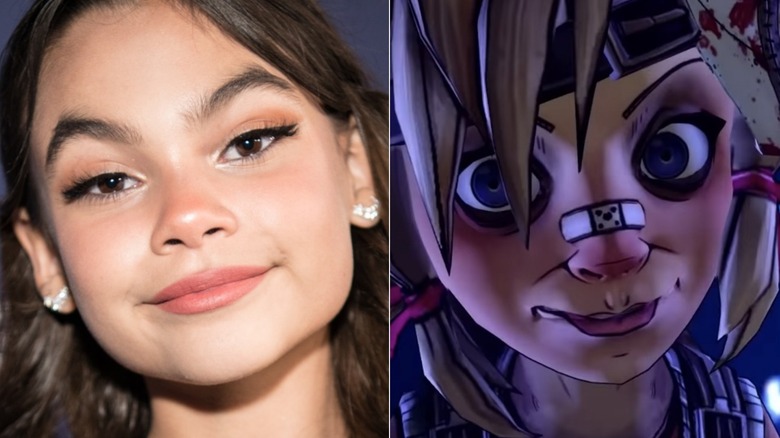 Morgan Lieberman/Getty Images
Ariana Greenblatt, the actress best known for her role in Avengers: Infinity War as Young Gamora, has been cast to play the crazed, crumpet-loving, 13-year-old explosives expert Tiny Tina in the upcoming Borderlands movie. Greenblatt, who is 13 herself, joins a cast that includes Cate Blanchett as Lillith, Jack Black as Claptrap, Kevin Hart as Roland, and Jamie Lee Curtis as Dr. Patricia Tannis. 
Advertisement
"Ariana is a spectacular new talent in cinema," director Eli Roth said in a statement via Hollywood Reporter. "She has already worked with many of my close collaborators and everyone raves about her. She blew us all away in her audition, and I cannot wait to see her bring the wild, insane and unpredictable Tiny Tina to the big screen. She's going to blow up on screen like one of Tina's grenades."
According to Hollywood Reporter, 2020 was a "career high" for the young actress after she starred in Disney's The One and Only Ivan as well as Paramount's Love and Monsters. Greenblatt's upcoming appearances include the film adaptation of Tony award-winning musical In the Heights, as a voice actress in The Boss Baby: Family Business, and Awake, all of which are expected to release in 2021. She will also star alongside Adam Driver in 65, a sci-fi thriller currently in post-production.
Advertisement
A 2019 rumor from Full Circle suggested that the story of the Borderlands movie would revolve around Lilith's quest to find and rescue Tiny Tina on the planet Pandora and return her to her father, the CEO of the Atlas Corporation. But fans who have played Borderlands 2 already know that Tiny Tina was orphaned when her parents were tortured to death in front of her. A more recent hint about the movie's plot discovered by YouTube's Glitching Queen shows that the movie will follow a story more in line with the game series as its protagonists attempt to stop a corporate army from discovering one of the ancient Eridian vaults.
Tiny Tina was originally voiced by actress and writer Ashly Burch, known for her work in Life Is Strange, Horizon: Zero Dawn, and the animated TV show Attack on Titan. In addition to her somewhat controversial part in Borderlands 2, Tina played a major role as the game master in Tiny Tina's Assault on Dragon Keep, a sort of Dungeons and Dragons-esque spin on the Borderlands series. She appeared again in Borderlands the Pre-Sequel and as an older, 20-year-old in Borderlands 3.