Twitch Reveals Just How Violent The Platform Is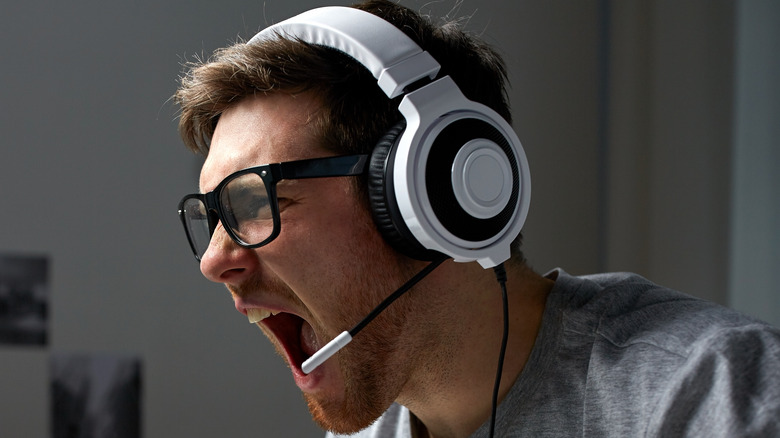 Shutterstock
While Twitch is often a go-to for many gamers and fans of streaming, the streaming platform has seen its share of controversies and issues, including threats of violence. Indeed, on the shadier side of Twitch, many have felt some of its more negative impacts, the statistics of which were revealed in Twitch's 2020 transparency report. 
The transparency report, which "takes a hard look at how we think about safety," according to the company, includes several statistics regarding content moderation, online harassment, and threats of violence. The report splits the statistics for 2020 into the first and second halves of the year. In that second half, there appears to be a statistical increase in most of the categories.
Chat moderation is the first statistic discussed by the report. Twitch finds that, in the first half of 2020, 92.93% of live content viewed was either manually moderated or was moderated by AutoMod, a program which filters out messages deemed harmful to viewers. In the second half of 2020, this percentage increased to 95.65%. Twitch suggests the increase is likely due to new channels having AutoMod enabled by default. In December 2020, Twitch received an update that banned certain words from use in negative contexts. These include words such as "simp," "incel," and "virgin," and could account for a small share of the content moderation in 2020.
The report also includes data with regard to "Escalations to Law Enforcement," which are cases where Twitch will "send user data to appropriate law enforcement agencies" upon credible threats of violence. In the first half of 2020, there were 22 escalations in total, which decreased to 16 in the second half of 2020. The platform notes this "is largely due to a decrease in public gatherings caused on account of COVID-19."
Nearly 2.22% of the first half's enforcement actions were due to sexual harassment claims. This more than doubled in the second half of 2020, where sexual harassment claims accounted for about 5.52% of enforcement actions. This ultimately amounts to 0.099 claims per thousand hours watched in the first half of 2020 and 0.114 claims per thousand hours watched.
The report also includes the number of "enforcement actions," which entails actions taken by Twitch to prevent an account from potentially violating more rules. These include account warnings and suspensions, both temporary and indefinite. In the first half of 2020, the number of enforcement actions totaled at nearly 879,000. In the second half of 2020, Twitch took nearly 1,109,000 enforcement actions altogether.
Of course, Twitch still has yet to refine some of its censoring operations. For instance, Twitch censored Metallica's performance at BlizzCon earlier this year, replacing heavy metal with carnival music mid-performance. However, transparency reports like this seem to be an important step in streamlining the platform's policies.