Dr Disrespect Reveals The Truth About Why He Plays Warzone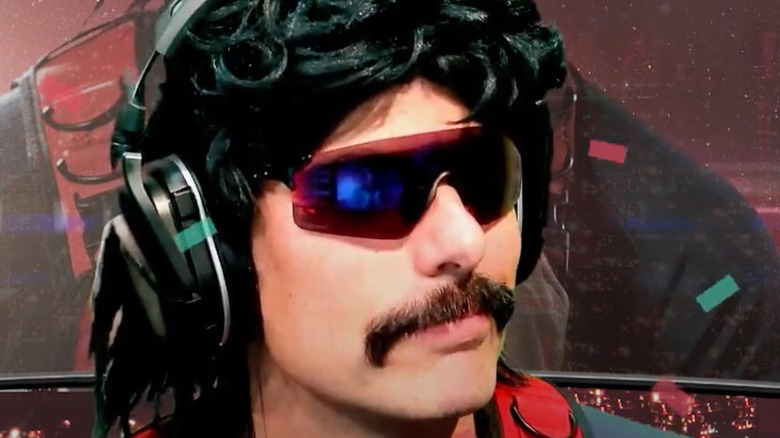 YouTube/DrDirespect
There are a lot of battle royale games out there these days. From PUBG to Fortnite, Apex Legends to Valorant, the often free-to-play games have only been growing in popularity in recent years. But among them, one battle royale game reigns supreme, according to YouTube's mustachioed streamer Dr. Disrespect. In response to one of his audience members on Friday, March 5, the Doc said that he thinks Call of Duty: Warzone is superior because of its consistency and reliability.
"Warzone is dead and CoD players are hurting," one viewer said during a recent live streams on the Doc's channel. But the streamer didn't agree.
"When I go to Warzone, I know what I'm gonna get," Dr. Disrespect said. "I'm gonna get a fix of probably, you know ... the funnest BR out there, in my opinion — I mean in comparison to all the BRs, right now that exist."
Dr. Disrespect went on to say that he thinks that games like Apex Legends are "cool," but that they're not as encompassing as Call of Duty: Warzone.
"You kinda get everything with Warzone, you know? And it's fast-paced and you know what you're getting and you're landing hot ... It's that fix. It's that experience," the Doc said. "But Valorant, it's just a good contrast, man. I love where we're at, going back and forth. It's good. We're getting the full spectrum."
Even though Call of Duty: Warzone is his clear game of choice right now, he had a lot of good things to say about Valorant as well. Riot Games' Valorant, which launched a couple of months after Warzone in June 2020, has started to pop up more frequently on Dr. Disrespect's streams. The game often has a slower set-up in the beginning that leads to explosive gameplay, he said.
"Whether it's the fast push or the slow push, the ultimate fight that happens just happens so fast," the Doc added.
"Right now, the way I look at the entire landscape — I mean it could change ... I think Valorant is kinda the esport game of the future," he said. "I think it's gonna be big."
Since his mysterious ban from Twitch last summer, Dr. Disrespect has picked up right where he left off, amassing more than 3 million YouTube subscribers that attract thousands of viewers each stream. The Doc has released few details about his ban, while other streamers like Ninja have also weighed in on the subject.