Why An NBA Player Just Got Banned From Twitch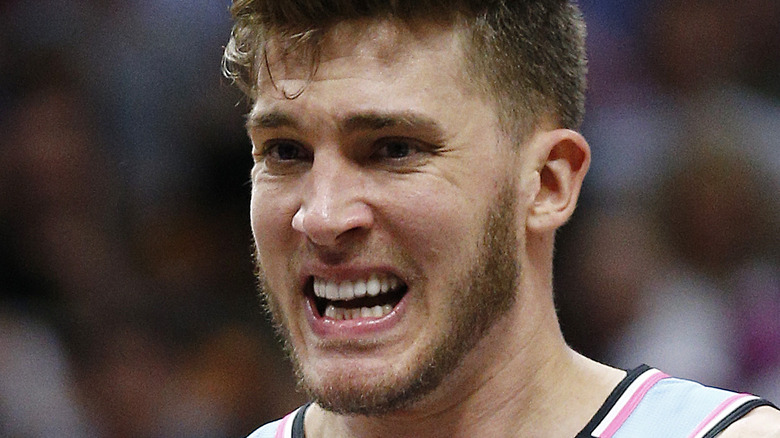 Michael Reaves/Getty Images
Twitch has managed to attract a ton of streamers to its service, including a host of NBA players who regularly hold streams to thousands of followers. Among the NBA players with Twitch accounts is Meyers Leonard, forward for the Miami Heat, who was recently banned from Twitch's platform following his use of an anti-Semitic slur during a Call of Duty: Warzone stream.
In the Warzone stream, Leonard appeared to be frustrated with his opponents, whom he labeled a "f—ing k— b—-." Following Leonard's ban from Twitch, a spokesperson from the streaming platform stated, "We do not allow the use of hateful slurs on Twitch. The safety of our community is our top priority, and per our guidelines we reserve the right to suspend any account for conduct that we determine to be inappropriate, harmful, or puts our community at risk."
At about the same time Twitch banned Leonard from its platform, the Miami Heat also suspended Leonard from the team, per Shams Charania of The Athletic and Stadium. The team put out a statement, saying, "The Miami HEAT vehemently condemns the use of any form of hate speech. The words used by Meyers Leonard were wrong and we will not tolerate hateful language from anyone associated with our franchise. To hear it from a Miami HEAT player is especially disappointing and hurtful to all those who work here, as well as the larger South Florida, Miami HEAT and NBA communities."
The Heat went on to add that "Leonard will be away from the team indefinitely."
Meyers Leonard later put out an apology for the incident. In it, he stated that he was sorry for using the slur and said he would dedicate himself to "seeking out people who can properly educate me about this type of hate and how we can fight it." Further, he concluded by promising to "do better and know that my future actions will be more powerful than my use of this word."
While the NBA has yet to conclude its investigation of Leonard's conduct, Twitch took the same decisive action with Leonard it has taken on many streamers prior. At this moment, it's not entirely clear if Leonard's account will be reinstated at some point in the future, or if the NBA player has permanently lost his ability to broadcast on the platform.