This GTA Glitch Sends The Chernobog Flying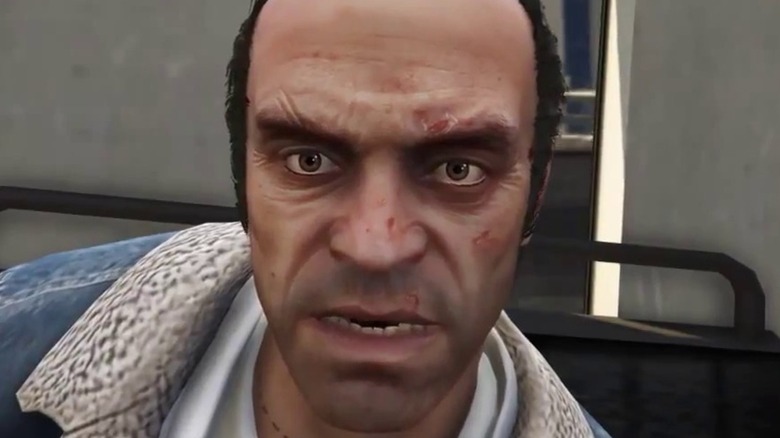 Before today, it seemed like pigs would fly before GTA Online's snail-paced defensive vehicle, the Chernobog, would. But now, thanks to a recently-discovered glitch, the Chernobog can take flight at lightning speed. The vehicle used to be known for its heat-seeking missiles and rather "floaty" handling, but now, it'll be known for defying the laws of gravity.
The glitch was discovered by Redditor siigada and shared to the GTA Online subreddit. Not only did siigada figure out how to make the Chernobog fly, but they managed to send it careening through the air in a fantastic flipping spectacle that you'll have to see to believe. So much for the Chernobog being hard to drive — once it's in glitch-flight mode, it's full speed ahead.
Siigada's explained that once they discovered the glitch, they "took it to the extreme." This caption was followed by a 30-second video that was so wacky that fellow gamers jumped into the comments to share their thoughts. Redditor Mrs_Anonymous_ wrote, "When people say not to buy the Chernobog just show them this." Some players are rethinking their former disregard and disdain for the Chernobog, like Redditor Professional-Date378, who commented, "guess I gotta buy a Chernobog now."
While it's not 100% clear exactly how siigada pulled this off, Dexerto notes that there was another vehicle on top of the Chernobog, which may have been a factor in triggering the glitch. In the video, the other vehicle gets crushed by the Chernobog and flung into the desert, which only adds to the flair of the flying feat.
GTA bugs and glitches are nothing new, that's for sure. If you're one for adventure, you might get a kick out of the numerous hidden areas in the game, including a literal Easter Egg Room. And, believe it or not, there's another popular GTA glitch that can make your car launch into the air. While some glitches are exciting, others are frustrating — though it's worth noting that players have found some creative solutions. Just this year, a player with mad coding skills figured out why GTA Online takes so long to load and found a way to cut the time down by 70%. 
Now that you've seen the Chernobog in a whole new light (and altitude), maybe you can figure out how siigada did it in the first place. With a little patience and experimentation, you too may be able to unlock this glitch and soar over the Grand Senora Desert for an epic few moments of flight. Anything to pass the time until GTA 6 finally releases.