Gotham Knights Fans Just Got Terrible News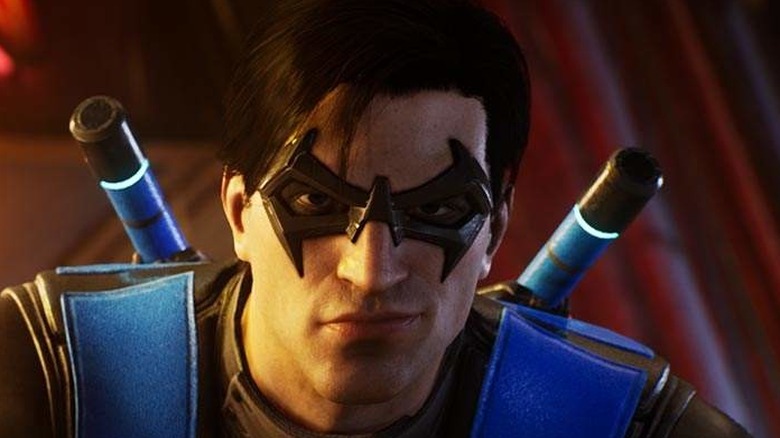 Batman fans who were hoping to dive into the Caped Crusader's next video game adventure later this year have just received a disappointing update. On March 19, the official Twitter account for WB Games Montreal Gotham Knights announced that the game has been delayed until 2022.
Advertisement
"We are giving the game more time to deliver the best possible experience for players," read the announcement. "Thank you to our amazing fans for your tremendous support of Gotham Knights. We look forward to showcasing more of the game in the coming months."
Gotham Knights is a multiplayer game that allows fans to step into the boots and cowls of Batman's proteges: Nightwing, Robin, Red Hood, and Batgirl. After the Dark Knight is seemingly killed in battle, these four young heroes have to step up and protect the city from the likes of Mr. Freeze and the Court of Owls. The game features a shared experience point system, allowing players to level up all of their characters at the same time. 
The news of the game's delay came as a shock to many fans, some of whom have expressed their disappointment on Twitter. Some gamers expressed their hope that Gotham Knights would benefit from the delay and not disappoint fans like Cyberpunk 2077 did. Others seemed totally unsurprised by the delay announcement. One fan may have summed it up best when they tweeted a comic book panel of Batman thinking, "It's like something's broken inside me. Seems hard to think. It shouldn't be like this."
Advertisement
At the very least, disappointed fans will have some updates to look forward to. While WB Games Montreal hasn't elaborated on its promise to show off more of the game, it can be assumed that more gameplay videos and trailers will be released in the near future as a way to continue hyping up the game. Fans have responded positively to the footage that has been released so far, which contained tons of small details and easter eggs for followers of the source material.
Gotham Knights joins Hogwarts Legacy as yet another Warner Bros. title to receive a hefty delay. It looks like Bloomberg's Jason Schrier was dead-on when he predicted that the Hogwarts Legacy delay was just the beginning of a series of pushed-back video game releases in 2021. 
Hopefully for the fans, this latest delay will result in a game worthy of Batman and his partners. Gotham Knights is expected to launch for PlayStation and Xbox platforms, as well as PC.