Sleep With Mass Effect's Garrus In Real Life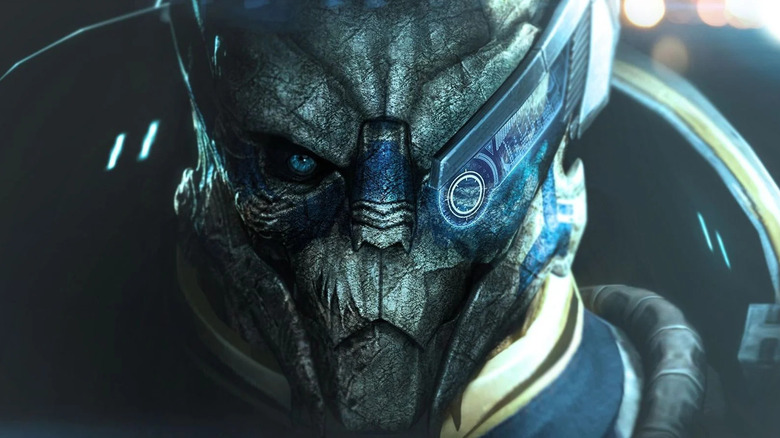 Have you ever wanted to hop into bed with Mass Effect's Garrus? No, not like that! OK, well, maybe a little like that. As it turns out, the Garrus body pillowcase that was once an April Fool's joke is now an April Fool's reality. As of April 1, 2021, you can actually buy this phenomenal product featuring everyone's favorite seductive (and machine-washable) squad mate.
Now available for preorder on the BioWare Gear Store, $35 can buy you the dude of your dreams, both fantasy- and REM-induced, in fabric form. The product description is pretty hilarious, enticing lovestruck gamers to "drift into sweet dreams with your Turian Bad Boy" and "settle into Garrus' embrace or wrap him snugly in yours."
Since only the pillowcase is available for purchase, you'll have to buy your own body pillow to get the full effect of the product. Or the Mass Effect, if you will. If you fell in love with Garrus in 2D once, just wait until you can wrap your arms around him. Depending on the mood, you can enjoy a casual Garrus lying on his back invitingly, or, with a simple flip of your pillow, you can fall into a peaceful slumber side-by-side. 
The pillowcase is sizable at 24 x 53 inches. It's made of 100% polyester satin, and though it's listed as a "Home & Office Accessory," why stop there? Try bringing Garrus with you on car rides, trips to the grocery store, the local park ... the sky's the limit. If romancing the Archangel isn't your thing, you can keep it equally cuddly but more on the platonic side with a Garrus Collector's Plush. As is the case in the Mass Effect games, your choices will determine your fate. Luckily, in this context, your fate is going to be soft and serene no matter which Garrus you pick.
Finally, you'll have someone special to pass the time with until there's more news about the next Mass Effect game. Maybe you and Garrus could even start a countdown until the highly anticipated Mass Effect: Legendary Edition drops. If you need some flirting advice, why not try using one of Garrus' own terrible video game pickup lines against him? It may not get you anywhere, but at least it will be entertaining.
No matter where your adventures with your Garrus body pillowcase take you, you're in for some out-of-this-world snuggles.