New GTA 6 Rumor Claims We Have The Size Wrong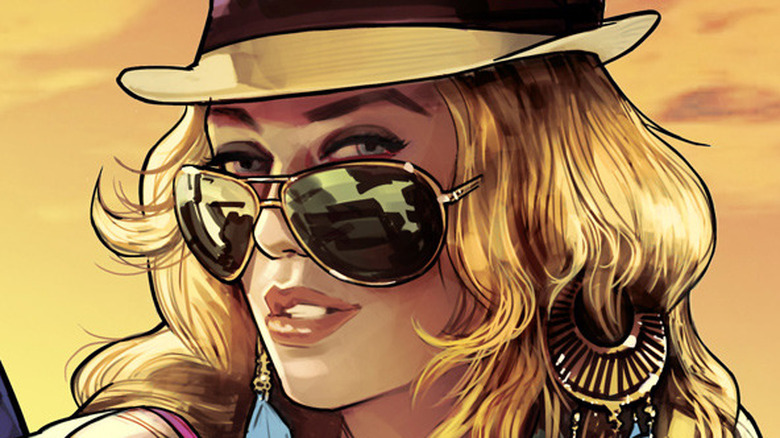 Fans of the Grand Theft Auto franchise have been waiting with baited breath, wondering when Rockstar Games will officially reveal Grand Theft Auto 6. All that's known about the game right now is that it exists — not a single other detail has been confirmed. That hasn't stopped the rumor mill from churning, though, with each new "leak" generating a ton of buzz in the GTA community. What makes this latest bit of gossip interesting is how it claims all of the rumormongers have actually been underselling the next GTA.
According to the leak, Grand Theft Auto 6, will feature "5 contiguous 'cities' across five states." On top of that, the poster claims there is actually a sixth city that'll be featured in the game, making it even larger than some past leaks have described. The leaker goes on to say that GTA Online has essentially been a staging ground for "new assets and mechanics," adding that the team at Rockstar has been trying out new techniques, such as adding more area to existing maps. Finally, this anonymous source ends with quite a whopper, stating, "Parts of the leaks have been correct. You guys are putting together pieces but are greatly underestimating how all these things work together."
The part about a larger GTA map will undoubtedly sound great to some. If the world is more expansive than anything seen before in the series, that'll go a long way toward making it truly feel like a living, breathing place. And the claim about GTA Online being used to test new things makes sense. That online-only mode is essentially a survey in video game form. If players like or don't like something, they'll make noise about it, and that could help Rockstar hone in on making GTA 6 even better.
However, as with so many rumors involving GTA 6, it's best you take this one with a grain of salt. The source of it will sound awfully familiar to those who pay close attention to these things — it's a 4chan user who claims to work at Rockstar. Further, it seems you can't even track down the original post anymore, if it even existed in the first place. All there is to go on is a purported IMGUR screencap of it. You can decide for yourself how much stock you want to put in that.
Still, hearing anything about Grand Theft Auto 6 is welcome news, as fans have gone a while without a substantial update, rumor or otherwise. Hopefully the game is still coming along, and hopefully it is every bit as ambitious as gamers are expecting.