Pokemon Go Just Ruined This Reveal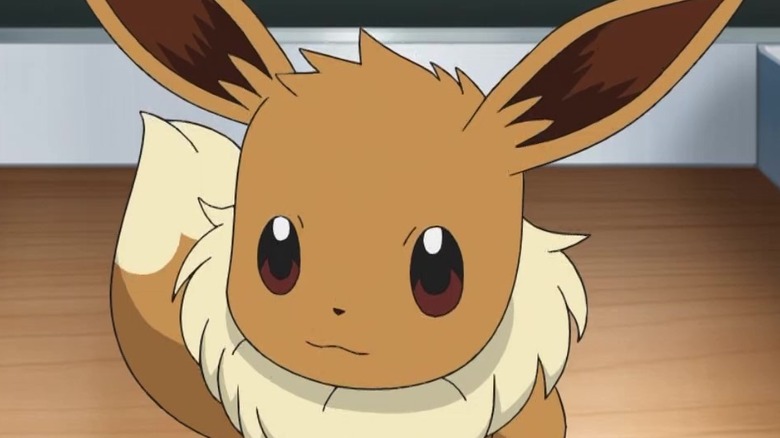 Popular mobile game Pokemon Go has been slowly adding more Pokemon to its lineup since release. Thanks to a bug found by Reddit user u/hugomagice1017, however, it seems the next addition may have been revealed early. 
Advertisement
Redditor hugomagice1017 shared a supposed screenshot from Pokemon Go that shows the silhouette of the eighth Eevee evolution, Sylveon. While they were reportedly unable to evolve their Eevee into Sylveon due to a "network error," some commenters were allegedly able to reproduce the bug. If the addition of Sylveon is legit, that would mean that all eight of Eevee's evolutions would be available in Pokemon Go for the first time. Reddit user therealhankwolfman noted in the comments that the bug would not occur if you have not updated to version 0.205.0.
In Pokemon Go, Eevee typically evolves into one of its many evolutions at random. However, the game features a hidden naming system that allows players to pick which evolution an Eevee will evolve into — but this can only be done once per evolution. According to u/hugomagice1017's original post and the resulting comments, the name that will cause Eevee to become Sylveon is apparently "Kira." 
Advertisement
As explained by Redditor Cal12G, the name "Kira" comes from the Sylveon ace trainer Kira, whom players can battle in Pokemon Sun and Moon. This matches previous Eevee-evolving trainer names found in Pokemon Go, all of which came from trainers with Eevee-evolved Pokemon. It's important to note that Niantic has not officially confirmed that Sylveon is coming to Pokemon Go, however.
Sylveon is the eighth and most recent evolution of Eevee to be added to the Pokemon series. Sylveon was added in Generation 6 of the long-running RPG series, which included Pokemon X and Y on the Nintendo 3DS. This was the same generation that introduced Fairy-type Pokemon, which Sylveon falls under.
This bug is only the most recent example of Pokemon Go players and data miners finding out about possible upcoming updates before an official announcement. In February, dataminers found evidence of some type of "form changing" ability coming to the game.
Since releasing in 2016, Pokemon Go has received a variety of updates and alterations, with developer Niantic teasing even more changes to come, including the possibility of the title showing up on new devices in the future. As for smaller updates, the game recently featured a Team Rocket takeover event, which had the legendary bad guys appearing all over the game for players to battle. 
Advertisement
Pokemon fans have a ton to look forward to in the coming months. Remakes of Pokemon Diamond and Pearl will be releasing later this year and Pokemon Legends: Arceus will be releasing in early 2022, with both games coming to Nintendo Switch. New Pokemon Snap also releases on Nintendo Switch on April 30.