Pokemon Go Could Look A Lot Different In The Future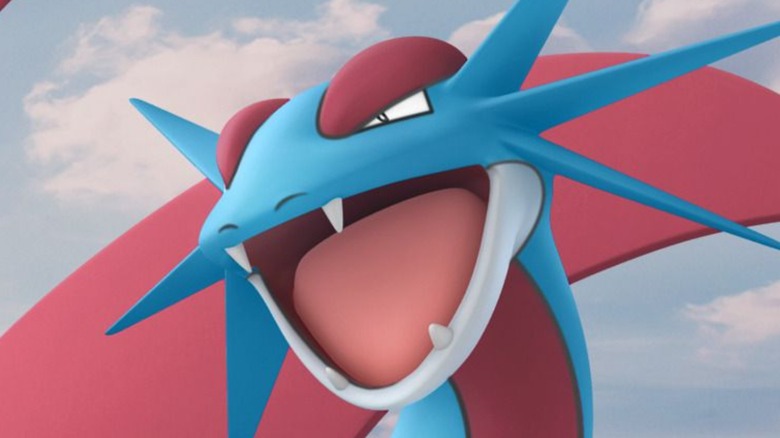 Niantic has hinted that the way players experience Pokemon Go will be changing. The popular augmented reality mobile game had an explosive reception after its 2016 release, reportedly receiving 650 million downloads in its first six months. Enthusiasm has slowed down a little bit, but regular updates and an expanding Pokedex of pocket monsters has kept the game thriving years later. Now, Niantic may be looking to revitalize the game's popularity by changing the way you play.
Advertisement
Niantic founder and CEO John Hanke, tweeted, "Exciting to see the progress we're making to enable new kinds of devices that leverage our platform[.]" Along with this tease, Hanke linked a picture to the tweet that appears to be the corner frame on a pair of augmented reality (AR) glasses with the word "NIANTIC" on a strap running along the side. We can also make out some perforations in the bottom of the frame which presumably may be for a built-in speaker, though it may simply be there for the ventilation of heat generated by the processing components inside.
Niantic has been teasing its interest in VR for quite some time. In December 2019, Niantic announced that it would be partnering with Qualcomm, manufacturers of the Snapdragon line of mobile processing units. Snapdragon processors are popular in smart devices and are notably featured in advanced VR headsets such as the Oculus Quest 2. Android Authority called them "the most ubiquitous SoCs in the Android smartphone space."
Advertisement
Co-founder and CTO of Niantic Phil Kelsin stated in that announcement, "We're looking forward to helping move the entire AR industry forward as we work together with Qualcomm Technologies to define a true end-to-end architecture – inclusive of hardware, software, and cloud technologies." It looks like that forward movement has finally commenced.
Users on Twitter got very excited over the implications of Hanke's tweet. Many people responded with questions about the design, and excited declarations such as, "THE FUTURE IS HERE." Min-Liang Tan, the CEO of Razer, responded with, "Nice! We've just started shipping our @Razer Anzu smart glasses – would be fun to do a collab!"
Others were less certain, given the unsavory history of tech launches from AR glasses like Google Glass and the rocky start Niantic had with Pokémon Go. One Twitter user responded, "Y'all can't even make software at a functional level, and hardware is infinitely harder than software. Another person remarked, "I have a feeling this won't make it past the testing phase. Google tried Google Glasses and it was cancelled after a year when there [aren't] enough people wanting this."
No information about specifications or a launch schedule has been released yet. Fans will just have to wait to find out what exactly Hanke and Niantic are teasing. In the meantime, it's certainly exciting to imagine the advancements that AR glasses could bring to a game like Pokemon Go. Maybe someday soon, players will be able to see a world of pocket monsters right in front of their eyes, just waiting to be caught.
Advertisement