The PS5 Is Finally Fixing This Major Issue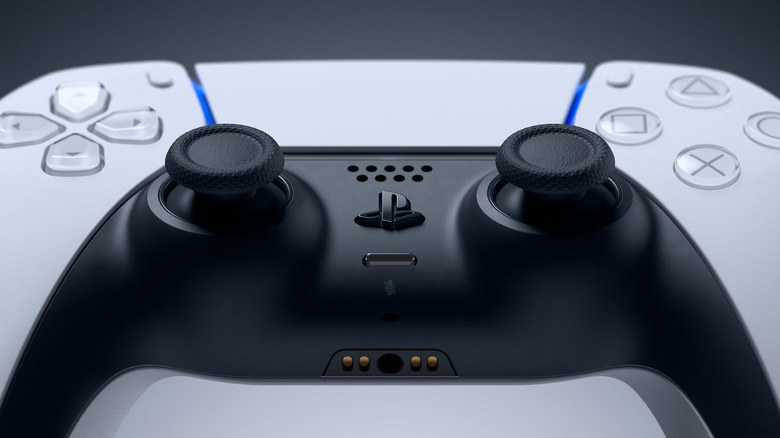 The PlayStation 5 has a pretty impressive library of current and past-gen titles available at the moment. The big problem many are running into, though, is that the console simply doesn't have enough internal storage. Today, Sony is rolling out a pretty massive update for the PlayStation 5 that adds a host of new features to the machine. One of them is sure to make your internal storage drive breath a serious sigh of relief.
According to the PlayStation blog, this new PlayStation patch finally lets you store PS5 games on USB drives. This means you can connect an external drive to the console, move some of your PS5 games to that for safe keeping, and free up space for any other games you might want to install. Like Bugsnax. Previously, you could use an external drive to store PS4 games, but strangely, PS5 games were off limits. This update thankfully does away with that weird restriction.
Just a note: the drive has to be at least 250 GB in size with a max of 8 TB, and you can only have one plugged in at any given moment.
However, while this is fantastic news, it does come with a bit of a caveat. Though you can play PS4 games directly from a USB storage drive, PS5 games still require the high speeds afforded by the system's internal drive. So you can store those newer titles on an external drive, but you can't play them. Still, for those who've been caught in an endless loop of downloading, deleting, and downloading again, the arrival of another storage option is likely a welcome sight.
And for those of you wondering — Sony does promise that support for internal M.2 storage is still on the way. Unfortunately, there's no timetable on when to expect that feature.
In addition to USB storage, Sony has a few other tricks up its sleeve with this latest PS5 update. Sony's Share Play feature now works across both PS4 and PS5, so you can let a PS4 friend take control of your PS5 to play a little Demon's Souls. There's also a new "Request to Join Game Session" option that makes it easier to get into games with your pals.
And a slew of "personalization options" are now available on the PS5. These aren't quite as large as the earlier features; they're more quality-of-life improvements. Regardless, you can now turn off voice chat more quickly when you want, adjust the sound levels of other players, customize the view of your game library, and more.
All in all, this is a pretty substantial update for those who managed to beat scalpers to a PlayStation 5. The most important feature, arguably, is support for storing PS5 games on USB drives. This will undoubtedly ease the pressure on PS5s everywhere. As stated, this update is rolling out today — April 14, 2021. If you don't have it available yet, you might want to restart your PS5 to see if that kicks things off.