This Dormant PS5 Feature Could Soon Come To Life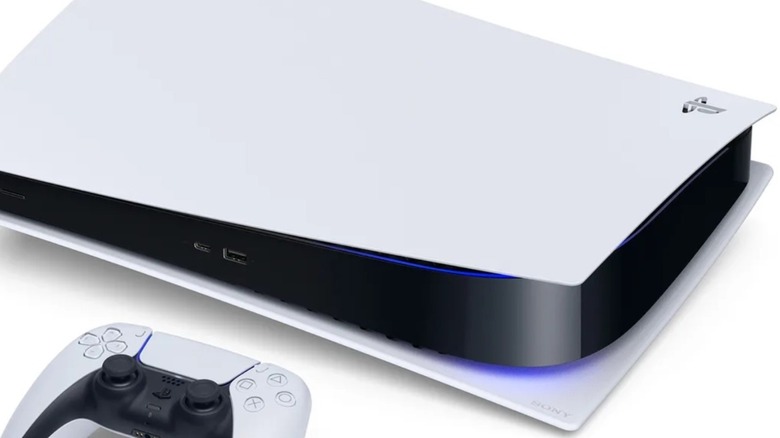 While the PlayStation 5 launched with a host of old and new features, Sony omitted some pre-existing PlayStation console options, including the PlayStation 4's web browser. Additionally, the console launched without the option to upgrade internal storage; however, according to a Bloomberg report, the PlayStation 5 will receive this feature come summer.
A Sony representative told Bloomberg that the tech titan is "working to enable M.2 SSD storage expansion for PlayStation 5." The spokesperson added that there is currently no schedule for the firmware update involving the upgrade. In addition to storage expansion, the same update would also provide added protection against overheating by improving cooling fan speeds.
Changing out the PS5's internal storage will prove a very useful feature for those who plan to expand their PS5 library routinely. As it stands, the base PS5 comes with 825GB of storage space, though only about 667GB are actually accessible. With games like Call of Duty: Black Ops – Cold War sporting massive file and update sizes, many gamers will no doubt take advantage of the expanded storage option.
The PS5 does support external hard drives — a feature that did not come to PS4 until well into its lifecycle — but the external storage option is somewhat useless right now. PlayStation 5 owners can't transfer PS5 games on their internal storage to their external hard drive, which means players can only delete and later reinstall games on their internal hard drive. While PS4 titles can be placed on an external hard drive, the ability to expand the internal hard drive will hopefully help mitigate frustrations surrounding PS5 game storage.
While the PS5 sadly omitted this feature and more, there are some things you may not know your PS5 can do. For instance, you can stream your PS5 games to your PS4 if you're away from the PS5. Further, you can mute your game's audio with a single press of a button on the DualSense controller. You can even apply settings that act as Spoiler Warnings, which shields against potential spoilers that might be seen in player-recorded videos or trophies. The internal storage expansion feature will help to further round out a console that has already outsold the competing Xbox Series X in most areas.