Sony Is Sabotaging RE: Village's Chances For Game Pass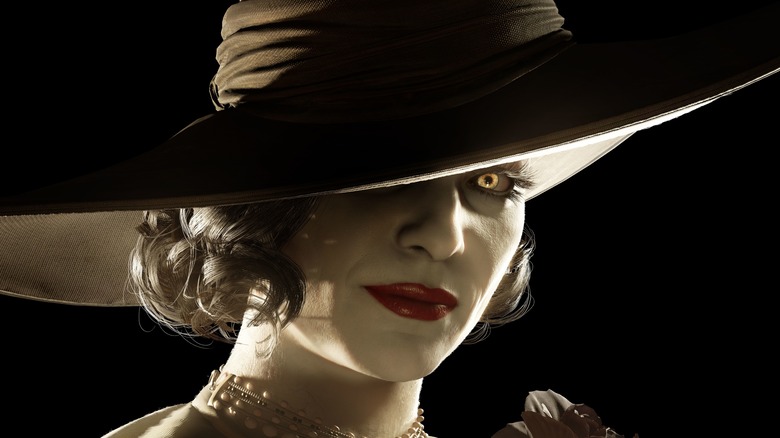 Xbox Game Pass is arguably one of the best deals in gaming at the moment. Where else can you spend $10 and get access to hundreds of games, including day-one releases like "Outriders" and "MLB The Show 21?" While the Game Pass library is chock full of titles from all sorts of developers and publishers, there's one game in particular you probably won't see on the service anytime soon. If a few leaked documents are accurate, the team over at PlayStation is doing everything it can to make sure Lady Dimitrescu doesn't waltz her way into Xbox Game Pass.
Over on Twitter, a user by the name of @AlfredLameche shared what appear to be pages from Sony and Capcom's "Resident Evil: Village" contract. The pages outline the terms of the "exclusivity and co-marketing agreement" the companies entered into for Capcom's highly anticipated horror game. The area titled "Subscription Services" is getting a lot of attention from those who've seen the documents, and there's a very good reason for that. Section 1.9.1 basically states that, for the duration of the agreement, "Resident Evil: Village" can't become part of anything that competes with a "PS Subscription Service." That includes Google Stadia, Xbox Live Gold, and Xbox Game Pass.
Furthermore, the contract dictates that one year after "Village" comes out, Sony will get the first crack at including the game in any of its services. Before Capcom can negotiate with Microsoft about a potential Game Pass deal, it'll first have to give Sony a chance to make an offer for PlayStation Plus or PlayStation Now. If you're an Xbox owner who hoped that maybe you'd get to play "Resident Evil: Village" via Game Pass in the near future, this is extremely bad news. At the least, you'll be waiting a whole year past its May 7 launch. If Sony forks over more cash to put "Village" in PlayStation Plus or PlayStation Now, you could be waiting even longer.
Quite predictably, gamers have had very different reactions to this news, likely influenced by their console of choice. Some feel Sony is "Devilish" in making this move, and is only doing so because it can't compete with Xbox Game Pass. Others say that Team PlayStation is in the right, and that it's merely trying to make the best deals it can in "a dirty and competitive game."
As mentioned, "Resident Evil: Village" is set to drop on May 7. Regardless of what platform you're buying it for, it looks like you'll have to do so at full price.