Scooby-Doo Could Be Making A Video Game Comeback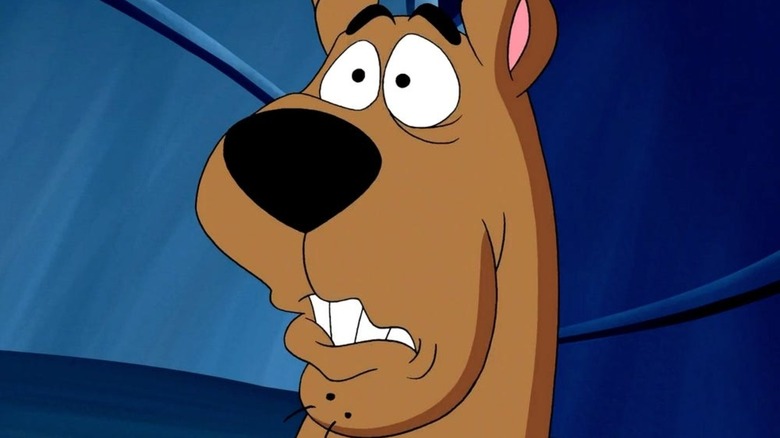 The internet loves the possibility of a video game version of "Scooby-Doo," and fans may soon get their wish. Scooby-Doo and friends might be making an appearance in "Dead by Daylight," if fans decide that's what they want to see added to the game.
The official "Dead by Daylight" Twitter account recently shared a survey to gather information and feedback from fans, but one question stuck out from the rest. While most of the questions intended to gauge customer satisfaction or preferred characters, one question asked players to identify what sorts of crossovers they'd like to see. "Scooby-Doo" appeared in the movies drop-down menu, along with classic horror creations like Stephen King's "Carrie," "Candyman," and "Hellraiser." The survey also included characters from anime, video games, and comics.
Interestingly, several Korean properties, like "Train to Busan" and "Kingdom," also appeared on the list of most desired IPs. "All-Kill," the most recent "Dead by Daylight" DLC, featured a Korean pop star as its latest killer, taking the internet by storm. This survey would seem to suggest that the success of "All-Kill" might lead the "Dead by Daylight" team to pursue other Korean IPs in the future. There's even a survey question that gauges players' interest in KPOP music.
A few popular anime series were also in the running. Some classics like "Hellsing," "Death Note," and "Fullmetal Alchemist" were options, while newer titles like "Attack on Titan" and "Tokyo Ghoul" also made appearances.
The inclusion of a well-known property like "Scooby-Doo" is entirely within the realm of possibility for "Dead by Daylight," which has included many other licensed characters throughout its life. Characters from "Stranger Things," "Silent Hill," and "Scream" all have themed chapters and characters in the game. Soon, "Dead by Daylight" will introduce a "Resident Evil" themed DLC to celebrate the 25th anniversary of "Resident Evil." While no characters have been announced yet, fingers are crossed that it includes Lady Dimitrescu.
It's important to remember that this isn't the first time "Scooby-Doo" has been a fan favorite to appear in a video game. Most famously, "Mortal Kombat" fans started a petition to include Shaggy in "Mortal Kombat 11," inspiring the game's director to create a mockup of what the lanky goofball might look like in the game. Modders also worked diligently to improve a number of video games by adding Shaggy. In-universe, Shaggy's a game fan himself, owning a Nintendo Playstation prototype. 
While there's no word yet on the survey's results, it's likely the internet will be at it again, arguing passionately for the inclusion of their favorite mystery solving gang.