The Sexy Resident Evil Lady Just Met Her Match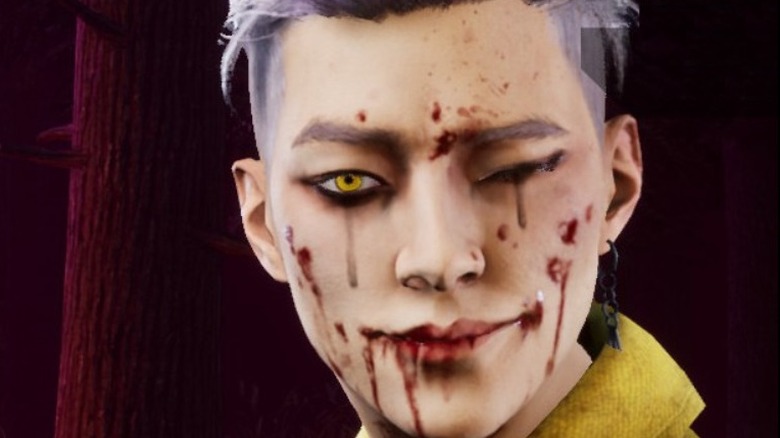 Since her debut earlier this year, Resident Evil 8's tall, sexy vampire Lady Dimitrescu garnered an exceptional amount of attention from gamers across the globe. She inspired memes and confounded the gaming community with her immense height. Now, just a few months after her debut, Lady Dimitrescu has been pushed to the side in favor of a new murderous villain. Move over, Lady Dimitrescu — there's a new boy in town, and fans are thirsting for him.
Dead by Daylight recently revealed its next chapter, All-Kill, which will feature a k-pop themed killer and survivor. The killer, Ji-Woon, a.k.a. the Trickster, has purple hair, a deranged smile, and one gnarly looking weapon. He's also the focus of a good bit of buzz in the online world.
Fans flocked to Twitter to share their joy over the arrival of the hunky new killer. One fan tweeted that the Trickster's beauty would make them lose their mind, while another got to work making fan-cams for the stylish new baddie. Still other fans settled in to trace down the inspiration for the Trickster. One fan stated that they think Ji-Woon is inspired by Hongjoong, a member of the k-pop group ATEEZ.
Some Dead by Daylight players observed that the Trickster isn't everyone's cup of tea. One fan posted a cartoon depicting the division between fans, with some loving the Trickster and preparing to swoon for him and others arguing that he's not scary enough to be a killer.
It's possible that the Trickster's backstory could shed light on the situation. The new survivor and killer have an entwined narrative rooted in pop stardom and jealousy. The Dead by Daylight developers released the pair's story, cluing fans in to what they can expect in All-Kill. The survivor, Yun-Jin, always loved music and had to fight hard to earn a spot as a top talent producer in the pop idol world. Yun-Jin established Ji-Woon as the head of a pop group, but soon a tragic accident killed all the members, leaving only Ji-Woon to carry on their legacy. Ji-Woon, as the Trickster, and Yun-Jin rebranded and toured the world, despite a growing number of murders happening on the tour circuit.
Players will have to wait a bit longer to discover the Trickster's abilities and see how he plays in Dead by Daylight, but so far he's already won quite a fandom. Polygon called the Trickster "a big breath of fresh air," and some fans couldn't agree more. Unlike many of the killers featured in Dead by Daylight, the Trickster is handsome, with a relatively clean face and human body. The Trickster's development is more than skin deep, though. The Dead by Daylight team worked with BTS producer DJ Swivel, so fans will be able to live out their k-pop dreams very soon.