It Would Have Been Nice To Have This Mario Update Years Ago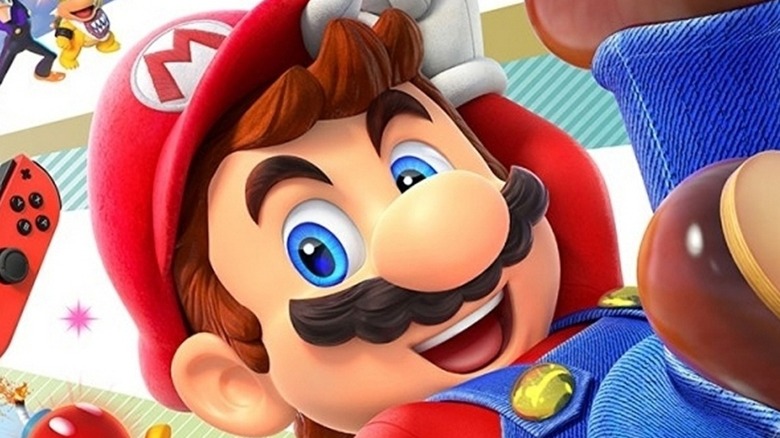 A little over a year ago, when the pandemic was getting underway and people found themselves bound to their homes, it was impossible to play "Mario Party" online. For whatever reason, the Nintendo Switch's "Super Mario Party" did not include an online mode, so distant, game-loving family members and friends were out of luck while in quarantine. Now that things are beginning to open back up and vaccines are rolling out, "Super Mario Party" is going online with a new update from Nintendo — more than two years after its original launch.
Starting today, players can download a free "Super Mario Party" update that adds two new online modes as well as "dozens of minigames online." The update includes Partner Party and Mario Party online modes, according to the game's official Nintendo listing. Partner Party does what the name promises, allowing two people to team up and play a game of "Super Mario Party" online against another team. Mario Party mode lets up to four players go head to head.
The new Mariothon mode is a longer competition between online players. Characters work through a series of predetermined minigames (which players can customise) in order to see who's the most skilled partygoer. Mariothon also supports local play.
Players can choose to open up a game for anyone to join or to create a private game with a unique password. Unfortunately, online mode only includes 70 out of the game's 80 minigames, so someone's favorite is bound to be left out. Players can play in configurations of 1 or 2 people per Switch console.
Players have wanted online capabilities in "Super Mario Party" for quite some time, and many fans online have felt that the update is too little too late. One player noted that fans asked for this sort of update when the game released, saying, "I thought this was a joke." On the other hand, another player said that even if the update came years too late, it's good to see Nintendo continuing support for an older title.
Nintendo sometimes releases updates too late, or doesn't push hard enough to meet fans needs. For example, prior to the release of "Animal Crossing: New Horizons" in 2020, fans were disappointed to discover that they were limited to one island per Switch console. Nintendo eventually released a patch that allowed players to transfer their content to a new Switch device, but many felt like the update was too late and did not completey correct the issue. 
Aside from the latest "Super Mario Party" update, Nintendo fans have plenty to look forward to when it comes to online play. Nintendo officially announced "Splatoon 3" earlier this year, and, of course, "Animal Crossing" continues to update regularly. The latest "Super Mario Party" update simply provides a new option for those looking to connect online — but it probably would have been nice to have received it a bit sooner.