Why Epic Is Scared Of Microsoft's xCloud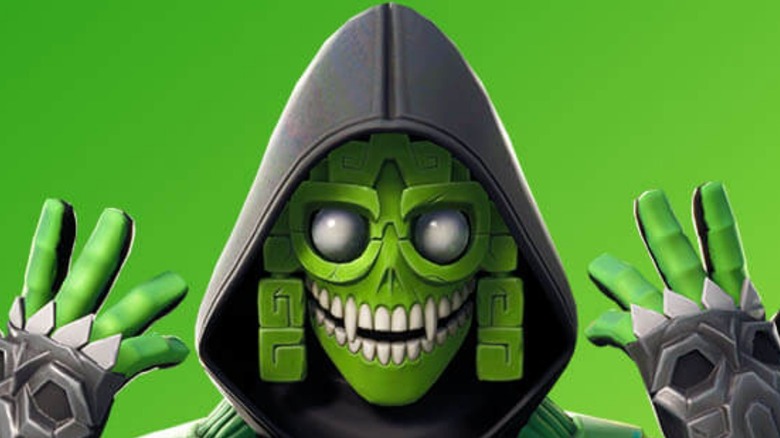 A little competition never hurt anyone. However, it can scare the devil out of certain companies, which is why you won't find "Fortnite" on platforms such as Microsoft's Xbox Cloud Gaming service, otherwise known as xCloud.
Recently, Epic's Vice President of Business Development, Joe Kreiner, recently provided a statement (via The Verge) regarding the discrepancy of offering "Fortnite" on PC through the Epic Games Store and on Xbox but not on the Microsoft streaming service that connects these platforms. Instead of tiptoeing around the concept of streaming (since Google's other streaming gaming service, Stadia, hasn't exactly done so hot), Kreiner flat-out explained that he doesn't want Google to stream "Fortnite" because he views it as a rival.
Kreiner said, "We viewed Microsoft's efforts with xCloud to be competitive with our PC offerings." This decision wasn't made in a vacuum. According to The Verge, the idea to lock "Fortnite" out of xCloud is part of a larger war Epic Games continues to wage with companies such as Apple. In case you forgot, in recent months, Epic and Apple have locked legal horns over whether Epic Games could let gamers purchase V-Bucks in the game's iOS version without using the Apple App Store — which also meant Apple couldn't take a 30% cut of those transactions as it does with other mobile games. Kreiner's statement regarding xCloud originated from a related 321-page court document (via New Musical Express).
While Epic's view of xCloud is documented, the exact reasoning is pure speculation — according to The Verge, most of the document has been redacted. While the deposition apparently elaborated on Kreiner's rationale, the section pertaining to that information has been obfuscated from public viewing. However, The Verge theorized that Epic Games is preemptively avoiding a legal headache and cutting xCloud out of the "Fortnite" action because Microsoft "doesn't currently allow rival game stores on Xbox or xCloud." However, Kreiner apparently hasn't tried to negotiate with Microsoft on the situation, so for all he knows, the company could still make an exception.
With xCloud out of the running, audiences who want to play "Fortnite" on the go have slim pickings. The Apple store is out, as is the Google Play Store, which leaves gamers with three options: the Epic Games app, Nvidia GeForce Now, and Nintendo Switch. The ongoing Apple lawsuit might decide whether "Fortnite" will return to the app stores, as well as its future on the xCloud.