Minecraft Modders Have Made A Staggering Amount Of Money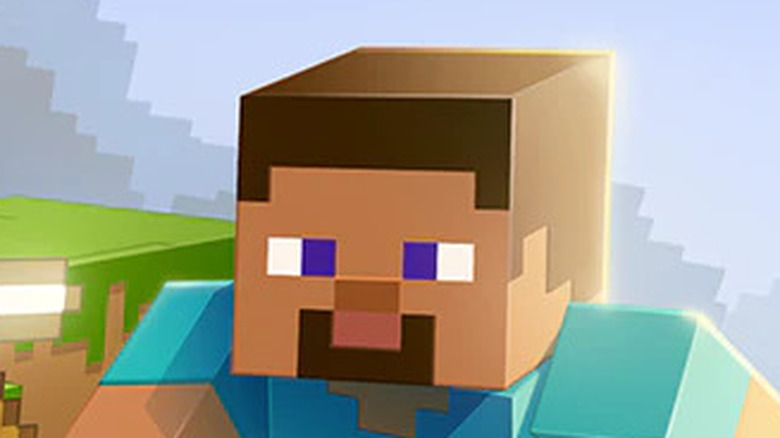 "Minecraft" is one of the biggest gaming names in gaming history — even if you haven't played the game, you've definitely heard of it. In fact, the game has changed lives since it was released. "Minecraft," which is owned by Microsoft, has apparently only grown since the start of the COVID-19 pandemic, and the title has been a major win for both Microsoft and in-game creators.
Advertisement
According to a transcript of an earnings call Microsoft had with investors on April 27, "Minecraft" modders have made over $350 million by selling "mods, add-ons, and other experiences" through Microsoft's official marketplace for mods. "Minecraft" also raked in some money for Microsoft, as Microsoft CEO Satya Nadella pointed out that Xbox's "contact currency" grew by 32%, which was due to "better-than-expected performance of first-party titles, particularly 'Minecraft.'"
The "Minecraft" Marketplace, which was created for the game so that players can safely "discover new avatar skins, textures, and worlds made by creators," became noteworthy enough that it drew Microsoft's attention. People have enjoyed creating new things in "Minecraft" for years, and the creator-driven marketplace has become a place for fans to share and enjoy what they do while also making money for the time and dedication they've put into the game. With mods ranging from "Mario" worlds to recreations of Baby Yoda, the "Minecraft" Marketplace has sold just about anything and everything that members of the "Minecraft" Partner Program can dream up.
Advertisement
The "Minecraft Partner Program" calls for creators who have "proven experience" as well as a love for the game — besides that, no other credentials are necessary. Individual creators and groups can sell content on the "Minecraft" Marketplace, and it seems to have worked out pretty well for these sanctioned modders.
Additionally, Nadella mentioned, "'Minecraft' [brings in] nearly 140 million monthly active users, up 30% year over year, making it one of the leading platforms in the creator economy." That amount of active players beat out some of the largest gaming crowds in the biz, including massively popular titles like "Counter Strike: Global Offensive."
Alongside "Minecraft," Nadella mentioned "Microsoft Flight Simulator" as being a big hubs for creators, and it seemed like Nadella expected both games to continue going up. In fact, Nadella as ended the overview, he said, "I'm optimistic about our opportunity ahead." It looks like the passionate "Minecraft" community has made a significant impact on Microsoft's earnings, even more than Microsoft itself could have predicted.