How Resident Evil Village Avoided Cyberpunk's Mistake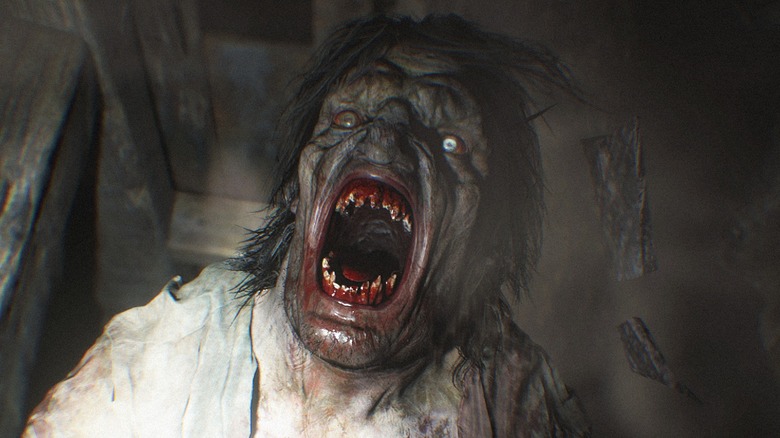 "Cyberpunk 2077" launched right as the console generations passed their torches. Given the rough release state of the Xbox One and PlayStation 4 versions, that was mistake number one. CD Projekt Red recognizing the problems before launch and ignoring them was mistake number two. Granted, "Cyberpunk 2077" shipped with bugs independent of platform, but the resulting experience left many gamers wary of upcoming games scheduled to release on more than one console generation, such as "Resident Evil 8: Village." However, according to Capcom, gamers don't have to worry, as the studio made sure the game ran smoothly on last-gen hardware.
Recently, IGN interviewed Tsuyoshi Kanda, producer of "Resident Evil 8: Village," who explained that Capcom was fully ready to skip over the Xbox One and PlayStation 4 versions to focus on the Xbox Series X|S and PlayStation 5. If you remember, when the game was announced, it was only marketed for the Series X|S and PS5; Xbox One and PS4 ports weren't announced until well after word of the game had spread. 
According to Kanda, that's because Capcom didn't want to provide false hope — if the developers couldn't get the game running flawlessly on last-gen consoles, then "Resident Evil Village" wouldn't be released on last-gen consoles, period. Morimasa Sato, the director of the latest "Resident Evil" game, also chimed in, stating that the main concerns when making the last-gen versions were graphical fidelity and framerate. The developers wanted to pass the litmus test of providing good graphics without sacrificing frames and vice versa.
Kanda explained, "We developed 'Village' as a game for next-gen hardware, but in order to make it accessible to more players, we went through a lot of trial and error to somehow provide a comparable experience on last-gen hardware. In the end, we were able to deliver a high-quality product for last-gen hardware as well. That being said, if the quality hadn't been sufficient, I don't think we would have released it."
Given the generally positive reaction to the game's PS4 Pro gameplay trailer, as well as the overwhelming fan demand for extended demo time, it's safe to assume that the team working on the last-gen releases achieved its goals and more. This is especially good news since Xbox Series X/S and PS5 consoles are still difficult to obtain. While it's unlikely that stores will stock a lot of these consoles between now and May 7 (the game's release date), these miraculous Xbox One and PS4 ports will make sure scalpers don't get in the way of audiences enjoying the next chapter in the Ethan Winters saga.