Resident Evil Village Caves To Fan Demands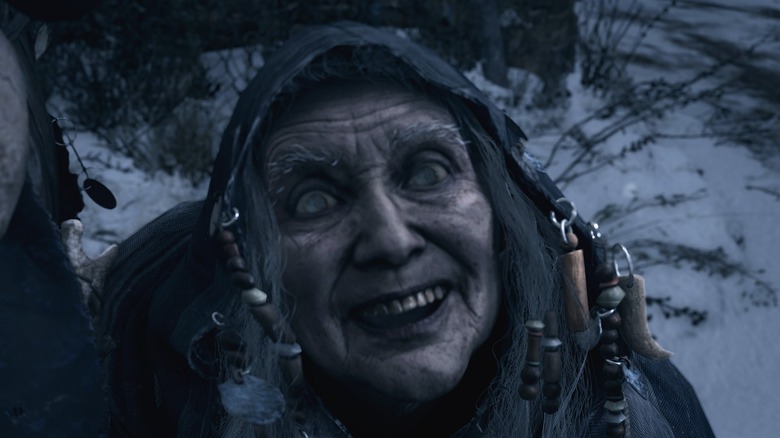 During the recent "Resident Evil 8" timed demos, PlayStation owners were in for a treat. Even though "Resident Evil 8" will release on multiple platforms, its demo was exclusive to PlayStation for a time, so PS5 gamers got to take a spin through Lady Dimitrescu's castle before other platforms had access. As a result, those other console owners felt left out. However, all that's about to change. Soon, non-PlayStation players will get a full taste of the vampiric Lady Dimitrescu's glorious castle and imposing stature. Not only that, but the demo will be available for a bit longer than initially planned.
The official "Resident Evil" Twitter account announced that Capcom would be extending the demo period for the final "Resident Evil 8" demo. Originally, players were supposed to be able to access the demo starting May 1 at 5 p.m. in North America. Once accessed, players would have 24 hours in which to play the one hour demo. 
Capcom graciously extended the demo period by one week, meaning that the demo goes dark on May 9, two days after the full game releases. All platforms will be able to access the demo for the same amount of time, evening the playing field and providing an equal experience for all "Resident Evil" fans.
Capcom has explained that the demo extension was a response to fan outcry. The company tweeted, "We've heard your feedback." 
Of course, some "Resident Evil fans" still didn't feel satisfied. @dexter_stars tweeted, "You should hear all kind of feedback. Classics collection, Code Veronica remake, give fans the choice to play first or third person mode." @dexter_stars went on to say that independent games offer more options than Capcom's slate of titles, and that if indie studios can create a more varied experience for players, Capcom should be able to, as well.
Other fans were quick to step in and defend Capcom. After some fans complained about the timed nature of the demo, @TheLanClan1 said, "Thank you guys for reacting on this quick, but fanbase, chill. It's a demo, stop complaining about the length of it, it's called a demo for a reason."
"Resident Evil 8" promises many new creatures and characters to add to the "Resident Evil" lineup, including werewolves. With only a few more weeks to go until the full game releases, players don't have long to wait to experience the totality of these horrors for themselves.