Skyrim Grandma Is Now Part Of Her Favorite Game
Talk about really getting into your favorite game. YouTube star Shirley Curry, a.k.a. Skyrim Grandma, just became a legit "Skyrim" NPC follower, complete with a backstory, dialogue, a bow, a beautiful home, and more. As reported by Eurogamer, fans of Skyrim Grandma can now download "Shirley – A Skyrim Follower Mod" on Nexus Mods and Bethesda.net, thanks to a creative fan by the handle of Thesparalius.
If you've never heard of Skyrim Grandma, you're in for a real treat. The 85-year-old gamer and influencer stays active online and boasts a thriving community of followers. Her 960,000 fans and counting are lovingly known as "Shirley's Grandkids," and they've sure made their honorary grandma proud this time. Most of Shirley's content is focused on "Skyrim," though she adds her own touch to the game with creative storytelling that totally twists the game's existing lore. She also got into vlogging around the time she celebrated her 300th video back in 2016.
Though Shirley has clearly conquered the YouTube game, she's had her fair share of challenges as well. Back in 2020, she took a break to destress and get away from negative comments, as many streamers do from time to time. Now, she's back and more popular than ever.
Double the Shirley, Double the Fun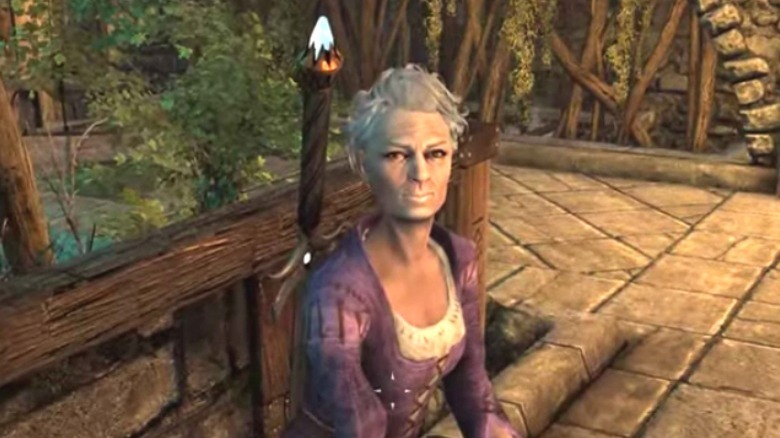 To get a taste of the Shirley mod, you can actually check out Shirley herself playing it. So far, she's just posted an introduction to the playthrough, but more videos are on the way so players can get the ultimate Shirley experience. Hearing Shirley interact with her own NPC, which actually features her voice, is priceless. Shirley plays the mod as a character named Mia, whose initial mission is finding NPC Shirley's stolen greatsword and bow. After that, Shirley joins along with Mia as a follower. Watching IRL Shirley get to know in-game Shirley couldn't be more endearing, or more meta.
If you are a fan of Skyrim Grandma, you're in luck. While there are no streamers quite like Shirley, the gaming community is home to some badass seniors, inlacing "Call of Duty: Warzone" champion TacticalGramma and Yang Binglin, the grandpa who beat 300 games in 20 years.
If you love this mod, you may be happy to know that Skyrim Grandma will also appear in "The Elder Scrolls 6." While that game isn't coming anytime soon, the fact that there will be multiple opportunities to play games with Skyrim Grandma in them is worth celebrating.