Animal Crossing Meets Resident Evil Village On This Spooky Island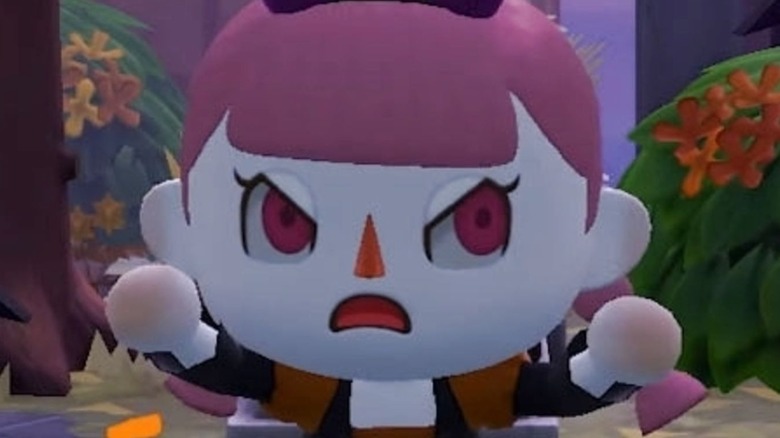 "Animal Crossing" may have its share of creepy details, but one fan has fully embraced horror by making their island into a sort of mini-map of "Resident Evil Village." Masabow1018 posted their island to r/AnimalCrossing, a subreddit dedicated to all things related to the cute simulation game. Masabow1018's map included a recreation of several iconic "Village" locations and monsters.
Masabow1018's island has a little bit of everything. Beside the Able Sisters' clothing store, players can visit Donna Beneviento's doll shrine, complete with disturbing antique porcelain dolls. Heisenberg welcomes players to his factory with a giant mech soldier and rocket. Lady Dimitrescu resides in a player house modeled to look a bit like her expansive castle, complete with antique furniture and candles arranged neatly across the home. The sad Moreau even gets a nod from Masabow1018's design, as his reservoir sits in the bottom right quarter of the map. 
The oddest thing about Masabow1018's "Resident Evil"-inspired island is the fact that townsfolk continue to live their daily lives amongst all this horror. It's difficult to imagine Raymond, a fan favorite villager who also happens to live on Masabow1018's island, walking around Heisenberg's factory as if it's a normal day. The melding of horror and cute animal aesthetics makes for a remarkable experience.
Players get creative
Players have long enjoyed crafting their "Animal Crossing" islands and characters into replicas of favorite movies and TV shows, but Lady Dimitrescu sparked a fire in sim-game fans. After her reveal in 2020, players began making tributes to her. One creator made a Sim Lady Dimitrescu, including her floppy black hat. Another "Animal Crossing" player made Lady Dimitrescu and her daughters, represented here by villagers in black robes. While the "Animal Crossing" version of Lady Dimitrescu won't be seeking out a Villager Ethan Winters anytime soon, it's possible they could meet for tea in her castle or attend a festival together.
These fan creations not only show great enthusiasm for other properties, but demonstrate that games like "Animal Crossing" and "The Sims" are excellent creative tools for players to express themselves. For instance, one fan recently recreated Nine Inch Nails' music video for "Closer" in "Animal Crossing," combining two properties gamers never thought they'd see together. 
Again, there's something special about seeing the cute style of "Animal Crossing" combined with horror franchises like "Resident Evil," as if the cuteness makes the creepy elements even more unsettling. Remember that time Isabelle was in "Resident Evil 3?" Adorably chilling.