Ninja Is Changing Up His Iconic Look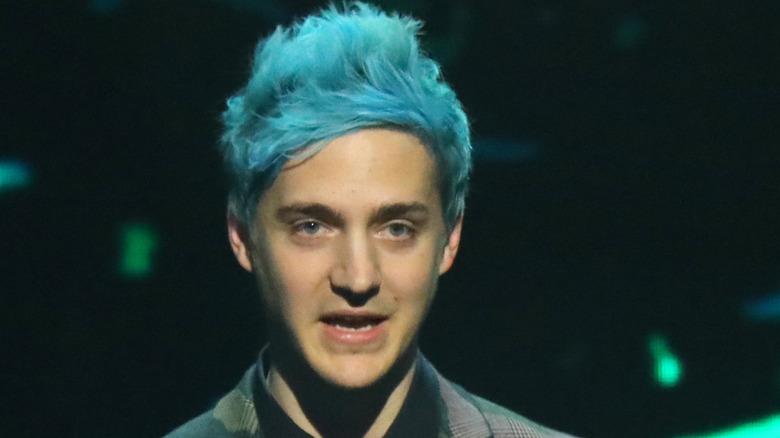 Jc Olivera/Getty Images
One of the most notorious streamers in the biz has hinted that he'll be switching up his signature look soon, and fans are reeling in anticipation. Tyler "Ninja" Blevins is no stranger to controversy — or stirring up a storm of speculation through his Twitter account. Ninja recently made news by mentioning that he might take a step back from competitive gaming, but now he's stealing headlines for an entirely different reason.
Today, Ninja announced via Twitter that he would be ditching his iconic blue hair in favor of something new. "Last day with blue hair," the streamer tweeted ominously. The gaming community immediately began to react, tweeting support and judgement in equal measure.
In response to Ninja's tweet, the esports community vied for Ninja's attention. Esports org TSM tweeted to ask if Ninja would dye his hair white and black to support their team, while the New York Red Bulls helpfully suggested red in support of its team.
Even a few news sites got in on the fun. Esports.gg, a popular news site for competitive gaming fans, said that this was the "End of [an] era," now that Ninja is changing his look. Dextero felt that it was definitely time for Ninja to get a new 'do, posting a gif of a boy getting his head shaved.
Ninja's new 'do revealed?
Streaming fans also had a strong reaction to Ninja's style news. One commenter said, "Dream never had to dye his hair as a publicity stunt like ninja did." That comparison doesn't entirely work, since Dream is a faceless streamer who chooses not to reveal his identity to the public. His hair color hasn't been a topic of conversation like Ninja's has. Even so, it shows how competitive some streamers' fans can be.
Perhaps most alarmingly, some detractors suggested that the style switch-up might be Ninja's attempt to become relevant again, or break back into gaming news. One commenter tweeted, "How to get back to mainstream media by Ninja: 1. Return to the game that made you popular[.] 2. Change something iconic to you." Of course, Ninja frequently has no trouble staying in the news of the gaming world.
Ninja later tweeted, "old hair, who dis," and linked to a "Fortnite" stream about to go live. 
Fans who quickly flocked to the stream were treated with a peek at Ninja's new hair, which has been returned to a more natural blonde-brown color. Ninja explained that he simply wanted to freshen up a bit and change his look. He went on to comment that he also feels shocked by his new haircut, and that his wife claims he looks ten years younger.
It's unclear if Ninja plans to dye his hair another color after this, or what sort of hairstyle Ninja might rock next. What is certain is that fans will be sure to tune in for the superstar streamer's latest fashion moves.