No One Saw This Esports Team Coming
The world of esports continues to be a turbulent and unpredictable place, with shocking new developments happening regularly. After all, with 8-year-olds signing pro contracts, nobody should be shocked by anything that happens in professional gaming, and yet there is always something even wilder to top it. Screen Wolves is the latest esports team to hit the scene — and it is being led by 72-year-old Celia Villalobos, a Spanish politician. 
The new team was announced with a fancy promo trailer featuring Villalobos, and included narration by her which featured a clear statement of intent: "I'm done keeping quiet. It's time to show my face. It's time to play," in Spanish (via Google Translate).
As noted by Ginx.tv, the former politician gained notoriety after getting caught playing "Candy Crush" during an official debate while she was the deputy speaker. Now she is taking gaming even further with the formation of her own esports team. The announcement trailer is sparse on details, showing little more than Villalobos sitting in front of a very nice PC setup. However, the video has sparked a zillion questions for esports fans.
The future of Screen Wolves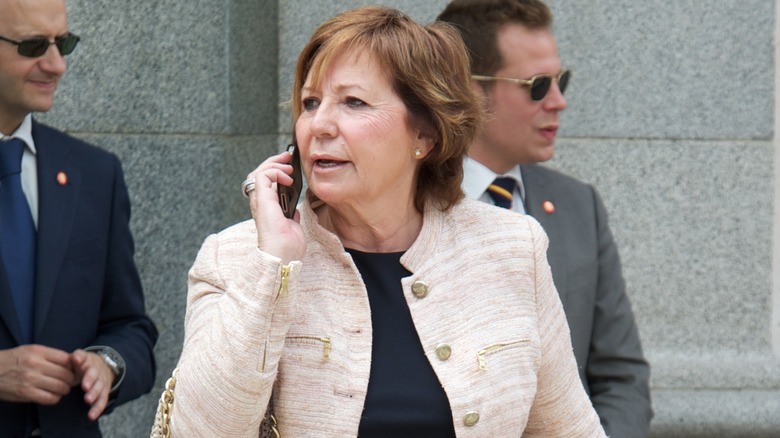 Carlos Alvarez/Getty Images
Based on the team's website, the only current member of Screen Wolves is Villalobos herself, who is listed as "Leader" in the team section. It's unclear at this time if she intends on competing herself, or if she will be more of a coach for yet-to-be-announced members. The team also currently doesn't have any games listed yet, so either Screen Wolves is waiting until it has players to announce games or Villalobos announced this idea a little too early. The most information available comes from the about section, which reads (via Google Translate), "We are the passion that comes from each game, the emotion of leveling up. We are the glory of a perfect play and the lesson of a defeat."
The website also features a store section that has a shirt, a hat, a backpack, and a mouse pad with the team's logo and colors, however all of the items are listed as coming soon. Hopefully Villalobos will announce more details soon regarding this mysterious new team.
More politicians have been embracing video games and the culture surrounding them in recent years, with U.S. Representative Alexandria Ocasio-Cortez (D-N.Y.) streaming "Among Us" and President Joe Biden getting his own "Animal Crossing" island. With the way things are headed, it wouldn't be shocking to see the next big political debate being settled in "Call of Duty: Warzone," instead of on a stage.