AOC Sets New Record On Twitch During First Stream Ever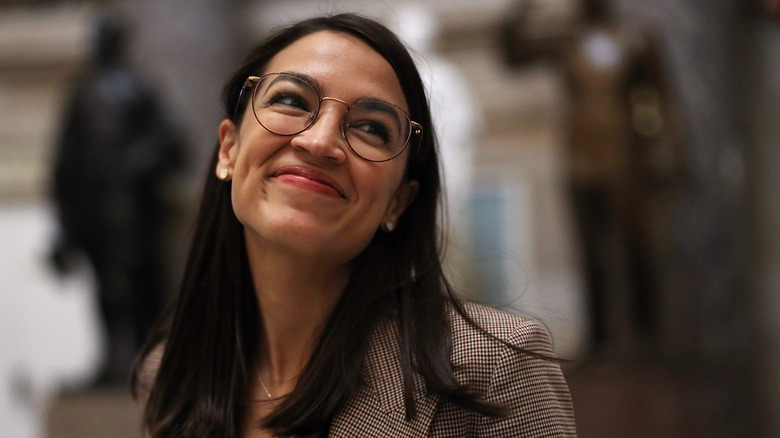 Alex Wong/Getty Images
Representative Alexandria Ocasio-Cortez (D-N.Y.), also known as AOC, is a high-profile politician who is used to being on camera. She'd never streamed on Twitch before, however — at least not until yesterday. The congresswoman launched her first Twitch broadcast on Oct 20., joining up with Pokimane, HasanAbi, Dr. Lupo, Jacksepticeye, and fellow representative Ilhan Omar to play the hit indie game Among Us. The stream set a record, reportedly garnering the most views of any stream on a new Twitch channel.
AOC played for nearly three-and-a-half hours and her stream topped out at nearly 439,000 viewers, according to Dexerto. The event helped AOC's Twitch channel gain over 600,000 followers. To put AOC's massive viewership numbers into perspective, she ranked fifth for the highest viewership right behind streamer xTear88. Of course, Ninja and Drake's Fortnite stream still holds the top spot at 616,000 viewers.
While AOC played, she talked to her fellow gamers about voting, encouraging Twitch streamer Myth to vote for the first time in his life. Myth followed up the occasion with a tweet to his two million followers: "It was nice playing with AOC tonight! Thank you all for coming out and watching. Remember to vote in this election as well. This election is my first time voting and it's super easy to do, so do it." 
AOC also encouraged viewers to vote in the upcoming 2020 presidential election, directing them to a voter registration website. "I'm so excited about this upcoming election. We're going to come together. We can overwhelm the polls to get things back on track," she said.
Besides those remarks and AOC's brief comment about the in-game ship's combustible engine, the stream was mostly free of political discourse. Instead, AOC commented on the gameplay and gasped every time she killed someone. Some of the more memorable moments, according to a Washington Post video, were when AOC accidentally reported herself, and when she killed Pokimane. "I can't kill Poki. She is so nice. I can't do that," she said. "Ok, I have to do it."
This is not AOC's first appearance on Twitch. In 2019, she jumped onto a 50-hour marathon stream of Donkey Kong 64. The stream, which is no longer archived, served as a fundraiser for a UK charity benefiting transgender children. It raised a total of $643,000. The representative showed her support for trans rights as well as her video game knowledge, naming the Nintendo 64 as the best console. She also revealed that she was a fan of Super Mario 64 and Pokemon Snap. This was another example of the growing phenomenon of politicians getting more and more involved in gaming culture.
The Washington Post's Noah Simms pointed out that AOC's stream is an example of politicians, especially Democrats, taking advantage of video games to reach young voters. Presidential candidate Joe Biden created an Animal Crossing: New Horizons island where gamers can learn about his campaign and be encouraged to vote. In a preview of the island hosted by Kinda Funny, the former vice president himself walked around shouting his campaign slogan "No Malarkey" while also taking photos with visitors. President Donald Trump has also tried to reach gamers in the past using Twitch, but ran into some issues related to the content on his streams.
Doron Nir, CEO of a live streaming tools provider called StreamElements, commented on the influx of politicians using streaming services. "With so many politicians embracing live streaming, it has become the latest medium of choice to connect with younger audiences. Given this focus, politicians are just one more type of influencer and they have to master these forms of communication to connect with future voters." Twitch is an ideal platform for politicians looking to get young people involved in politics. CNN reported that the streaming platform has 17.5 daily viewers. On top of that, the platform has continued to grow this year, likely due to COVID-19 restrictions. Nir said Twitch traffic grew 10 percent in March. 
Twitch and video game outlets can serve as additional channels to reach young voters. The trend of politicians making appearances in the world of video games may be here to stay. AOC's successful stream is just one example of this. What's more, she apparently wants to stream again in the future. "Hopefully, this isn't my last," she said.