Resident Evil Fans Have Noticed A Glaring Absence From Dead By Daylight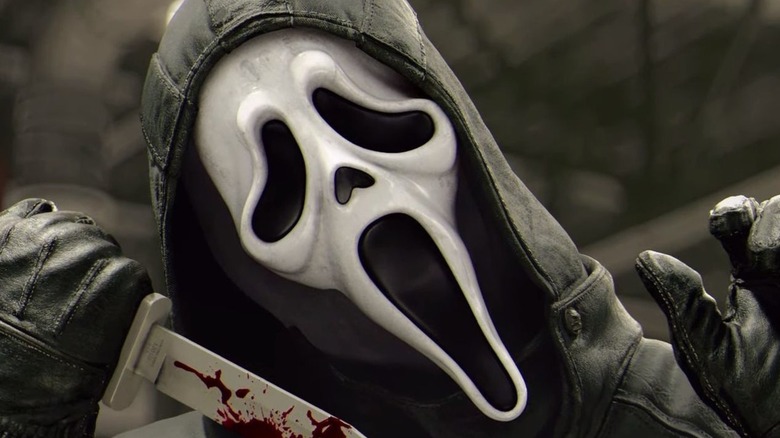 Behaviour Interactive has finally elaborated on details for the highly anticipated "Resident Evil" Chapter it teased for "Dead By Daylight" back in April. The developer celebrated "Dead by Daylight's" fifth anniversary with a livestream about upcoming plans for the series, including the collaboration with Capcom's horror franchise. According to the latest trailer, the popular 4v1 survival multiplayer game has amassed over 36 million players across all platforms since release — and what better way to celebrate than to bring in some more horror gaming icons? 
As expected, the collab features some franchise favorites. The trailer introduces the Nemesis as a Killer, with Leon S. Kennedy and Jill Valentine as Survivors. "Dead by Daylight" specifically features Leon's look from "Resident Evil 2" and Jill's from "Resident Evil 3." Raccoon City, an iconic location from "Resident Evil 2," is also present as a new map. In addition to the new characters and locations, Paste Magazine has pointed out a never-before-seen feature that gives Nemesis its own accompanying zombie horde.
"Resident Evil" fans likely recognize these characters because of how many times they've popped up throughout the series. However, some fans of the latest "Resident Evil" installment are shocked that a certain 9-foot tall lady vampire wasn't invited to the party.
Why no Lady Dimitrescu, though?
What more can be said about Lady Dimitrescu? She's an icon, a meme, a sexy vampire — the list goes on. The internet exploded with love for her well before "Resident Evil Village" even came out. However, her immense popularity didn't seem to qualify her for the crossover. Fans reacted with a mix of disappointment and confusion at her absence, with Stop Skeletons from Fighting commenting that Capcom didn't seem to know that they were "sitting on a 9ft gold mine." 
Others have argued that Lady D hasn't amassed the kind of attention that the other series mainstays have, simply because she's a new character who isn't as iconic to the series. After all, the Nemesis, also known as Nemesis-T Type, is one of "Resident Evil's" most famous villains. One commenter pointed out that Lady D's game has been out for less than a month, while Nemesis has been around for over 20 years.
"Dead by Daylight" seems to have hit a hot streak with its campaigns. Just earlier this year, the game broke news with the "All Kill" DLC and the K-Pop-inspired character who came with it. The game's new "Resident Evil" addition releases on June 15.