The Super Mario Bros. Movie Is Finally Way Longer
The "Super Mario Bros." movie, an infamous example of video games and movies gone wrong, now has an extra 20 minutes of running time thanks to a dedicated restoration team. Its extended version is called "The Morton Jankel Cut," named after the film's husband-and-wife directing team. According to the description on Internet Archive, "The Morton Jankel Cut" extends the film from 104 to 125 minutes with additional scenes that never made it into the original release. 
The "Super Mario Bros." movie stars Bob Hoskins and John Leguizamo as Mario and Luigi, who look almost nothing like the characters save for Hoskins' mustache. These two Italian plumbers adventure into a parallel universe run by dinosaurs to save Luigi's love interest, Daisy, from President Koopa (aka Bowser's counterpart). Some of the added content includes Mario and Luigi in a competition against a rival plumbing company, President Koopa killing off a henchman in a vat of slime, and side characters Iggy and Spike putting on a rap show.
Internet Archive credits the film's restoration to filmmaker Garrett Gilchrist, who has had a resume reworking versions of old movies like "The Thief and the Cobbler" and many "Muppet" projects. In addition to beefing up subplots and scenes, the extended version also apparently reworks the editing throughout the film.
There's another Mario movie in the works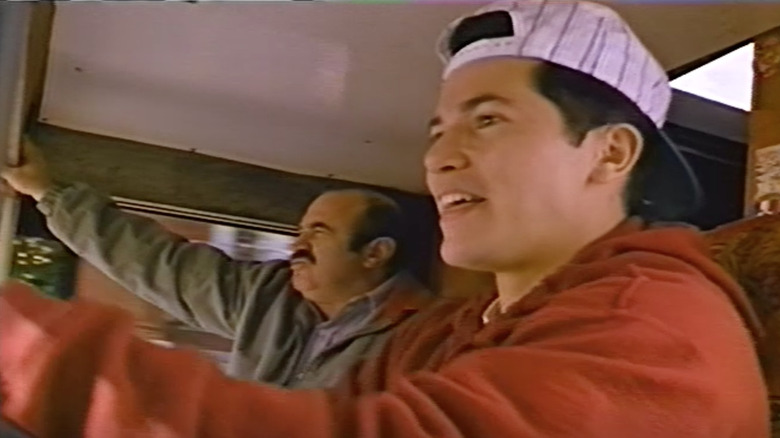 Super Mario Bros. Movie Archive
Tragically, the "Super Mario Bros." movie turned out to be a miserable experience for those involved thanks to a number of reasons like poor management and conflicting creative visions (via The Guardian). Even before release, the team supposedly knew it would be a flop. However, that didn't stop other companies from executing their own "Mario" movie plans. 
"Super Mario Bros." has been waiting for an animated movie comeback since 2017. Most recently, Illumination Entertainment announced that the animation was officially in the works in late 2018. The studio is best known for animated children's movies like "Despicable Me," "Sing," and "The Secret Life of Pets." Shigeru Miyamoto, creator of the "Super Mario Bros.," will be heavily involved in the process — something that the live action 1993 film didn't care to try.
In the meantime, fans can watch the extended version of the disastrous yet iconic "Super Mario Bros." movie on Internet Archive. And as producer, Roland Joffé, told Wired in 2014 of his now infamous flop, "in its own extraordinary way, it was an interesting and rich artifact and has earned its place. It has strange cult status."