New Leaks May Reveal The Future Of Borderlands And Marvel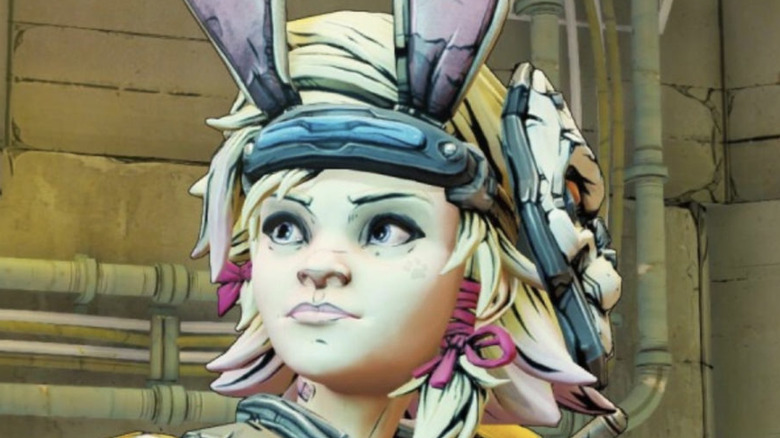 2K Games leaks seem to be spoiling fans ahead of next weekend's virtual E3 convention. A recent Reddit post claimed to outline a few major games in the works, including an upcoming Marvel strategy game and a "Borderlands" spin-off title, which might have already been teased last month. The Redditor sharing the information warns readers to take the leaks with a grain of salt, but many other notable sources seem to regard them as legitimate. For instance, Bloomberg journalist Jason Schreier has vouched for the leaks being real, as have some of Video Game Chronicle's own sources.
"Codename Daffodil," the supposed "Borderlands" spin-off, might feature the controversial Tiny Tina as the titular character. "Borderlands" developer Gearbox Software has already trademarked two names, either of which could be the finalized name: "Tiny Tina's Wonderlands" or the simpler "Wonderlands." This could possibly be the rumored "Borderlands" sequel reported in May 2021, when Randy Pitchford, Gearbox's CEO, posted a series of tweets indicating that the company is working on "the big one."
Meanwhile, "XCOM" developer Firaxis will reportedly be in charge of the new Marvel game, which reportedly is in development under as "Codename CODA." The leak's source described the game as "'XCOM' with Marvel heroes." So, keeping in mind that "XCOM" is a turn-based action game, that might mean the game will use similar elements from "XCOM" games to bring these Marvel heroes to life in the game. According to the leak, some famous actors might be voicing the main characters in the Marvel game, although it wasn't revealed who.
These leaks really spilled the tea
Other leaks in the thread include news of a new cover athlete for an "NBA 2K" game, as well as reports of an unnamed action game in the works. Dirk Nowitzki, former Dallas Mavericks player, might be the face of "NBA 2K22." The leaker originally thought Nowitzki would be for NBA 2K22, but others pointed out that it might make more sense for him to be a "NBA 2K Legend Edition" cover athlete, simply because of his retired status.
There isn't much information available concerning "Codename Volt," the new action game, other than the anonymous source describing it as "Cthulhu meets 'Saints Row.'" However, the Reddit thread suggested that Hangar13 could be developing the title, as the dev recently had a leaked contract concerning the development of an "open-world sci-fi title with supernatural elements."
2K Games and parent company Take-Two Interactive have yet to confirm or deny any of these leaks. However, with E3 right around the corner, these leaks might just be an early announcement of what's to come.