Who Is The Star In The Rise Of Kingdoms Game Commercial?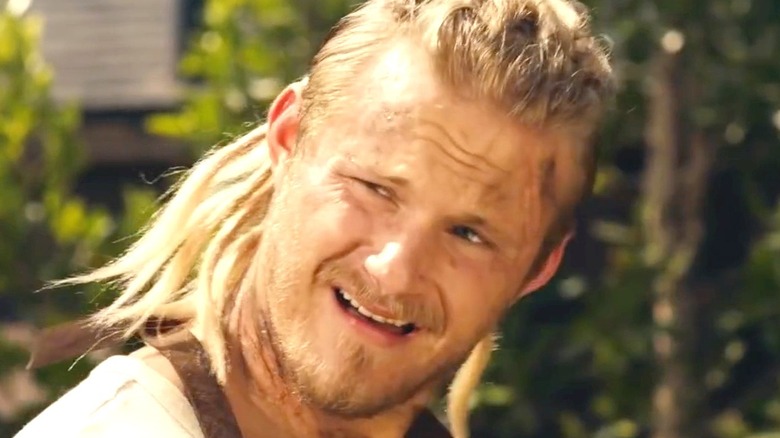 Rise of Kingdoms/Lilith Games
Lilith Games has recruited a very familiar face to tease the launch of the newest update for their "Rise of Kingdoms" mobile game. Available to play on both iOS and Android platforms, "Rise of Kingdoms" is a mobile adventure game where you can create your own civilization within a unique historical setting. It is effectively an open-world game, offering players the chance to go into battle, build out their environment, and collect loot. The title boasts an impressive 30 million users and seems to be growing as new updates roll out (via GamesPress). The Viking-themed update launched back in May 2020 and includes an era-appropriate setting, new features including updated alliance systems, and lots of Norse mythology references. Plus, the update incorporates famous Vikings for you to play as, including Ragnar Lodbrok.
Around the same time, Lilith rolled out a new commercial promoting the update. The ad (which you can check out over at Daily Commercials) is short, but it makes the most of its short runtime with a very watchable premise. In the spot, we watch as an average guy follows his neighbor around, questioning whether or not he's an actual Viking. Now, the average guy has good reason to think this, given that the neighbor does things like drink from a horn and vigorously use a rowing machine. At first, the neighbor brushes him off before getting annoyed at another interruption while playing — you guessed it — "Rise of Kingdoms."
So, who exactly is the familiar face featured in the "Rise of Kingdoms" Vikings commercial?
The Rise of Kingdoms commercial features a familiar action star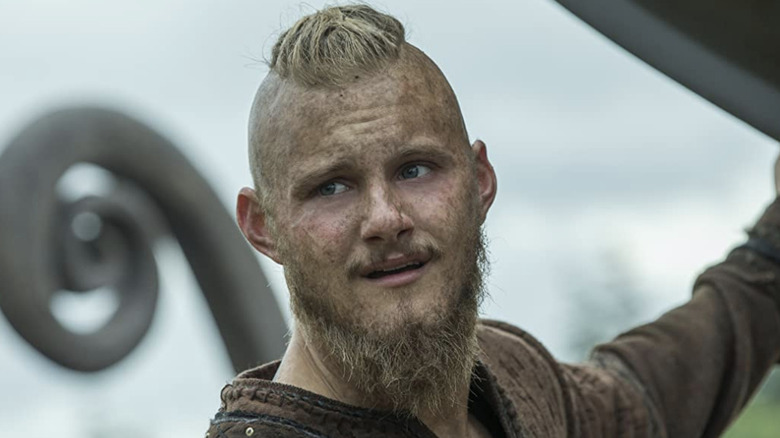 History Channel
Alexander Ludwig, star of the gritty History Channel series "Vikings," plays a central role in the new "Rise of Kingdoms" commercial as the definitely-not-a-Viking neighbor who can't stop playing "Rise of Kingdoms." He was undoubtedly cast in this specific commercial thanks to his four-season run as Bjorn Lothbrok, son of Travis Fimmel's Ragnar Lothbrok on "Vikings." Bjorn was a central character on Vikings for the majority of the historical drama's run, going from a young boy watching his father ascend from warrior to king before eventually taking over that mantle for himself. Ludwig played the teenage and adult Bjorn up until the very last episode of "Vikings," which aired on December 30, 2020.
But, if the sight of Ludwig in Viking garb doesn't ring a bell, perhaps the following credits will help jog your memory. His star began to rise when he appeared in the 2009 remake of Disney's "Race to Witch Mountain," starring Dwayne Johnson. Just a few years later, he broke out as a mainstream star when he played Cato, the arrogant District 2 tribute, in 2012's "The Hunger Games," starring Jennifer Lawrence and Josh Hutcherson. Ludwig also appeared in smaller-scale films in the ensuing years, including the horror-comedy "The Final Girls" and the indie movie "Blackway," starring Anthony Hopkins. More recently, he popped up in the World War II epic "Midway," was seen as a hotshot recruit in the franchise threequel "Bad Boys for Life," and starred opposite Kat Graham in the Netflix holiday rom-com "Operation Christmas Drop."