T-Pain Shut Down A Twitch Troll In The Funniest Way Possible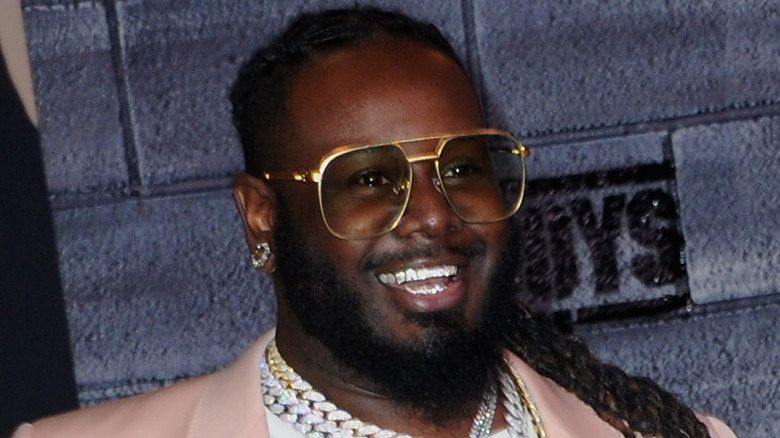 Albert L. Ortega/Getty Images
Everyone knows that rapper and singer T-Pain has some serious gaming skills, but he's proven time and time again that he's more than just a gamer — he's also a good dude looking out for gamers everywhere. In the past, T-Pain has destroyed toxic "Call of Duty" players and pointed out the difficulties of breaking into the world of Twitch streaming. Now, T-Pain has flexed his fun-loving good guy muscles once again by taking down a Twitch troll in glorious fashion.
T-Pain played a bit of his music on stream, treating his viewers to a preview of a song. Then, a commenter in T-Pain's chat told him to mute the track and that it wasn't any good. To this, T-Pain calmly turned to his wife and said, "I thought I was doing a good job. Damn, babe, my s***'s whack." His wife looked up casually, and asked him to explain, and T-Pain sighed, sharing that viewer Aandrew3030 had asked him to mute his music.
"I thought I was good all these years," T-Pain said. "Guess we gotta get rid of these," the singer said, as he pulled one of his Grammy awards off the shelf. He then took down another award he earned from getting 10 million streams and handed it to his wife. Last but not least, T-Pain took down his "Masked Singer" trophy, telling his wife it should also go in the trash. For her part, T-Pain's wife Amber Najm played along perfectly, gathering the awards for immediate disposal.
T-Pain trolls a troll
His trophies discarded, T-Pain then sighed, did a dance to celebrate a new sub, and resumed his thorough owning of Aandrew3030. "F*** you, Andrew!" T-Pain yelled, a bit of reverb on his mic adding gravity to the statment. He then told the viewer to get out of the stream if he didn't want to hear the music. Of course, T-Pain did include one caveat, explaining that if Aandrew3030 didn't mean to press the mute emoji all was forgiven. T-Pain truly out-trolled a troll, reminding everyone that he's got the awards and the clout to back up his confident streaming style.
The thorough and hilarious takedown of Aandrew3030 will probably stick with viewers for a while. T-Pain didn't have to shut down his critics in such a hilarious way, but he did, and the internet thanks him for that. Gamers continue to discover that T-Pain is an entertaining Twitch streamer in addition to being an iconic musician. And honestly, with the banger of an intro he recorded for his channel, it's kind of hard to forget those facts.