The Bizarre Reason Minecraft Has An R Rating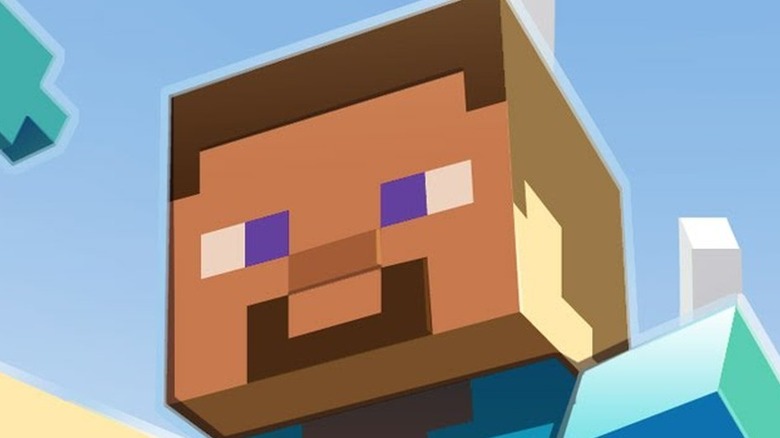 Players can build a limitless amount of objects and goods in "Minecraft," but that doesn't necessarily mean there's any truly questionable content in the game itself. The "Minecraft" community actually often uses the game for wholesome reasons, including Mr Beast's giveaways and in-game weddings officiated by streamers like DNP3. Even though gamers typically believe "Minecraft" is an all-ages game, some players in Korea are now locked out of the world-building title. 
Advertisement
The Korea Herald reported that thanks to Korea's "Cinderella" law, which prohibits children from playing video games at night, players younger than 19 cannot log on to game servers past midnight. Originally, the law was meant to stop children from losing sleep over video games, but "Minecraft" fans now think things have gone too far. The Korea Herald reported that "frustrated users are directing their anger at the country's 'shutdown law,' which blocks children under the age of 16 from playing online video games between midnight and 6 a.m. to protect them from side effects of playing games late at night and losing sleep." 
However, the Cinderella law doesn't decide what rating games receive, and Microsoft might be partially to blame for the adult rating of "Minecraft" in Korea. Microsoft chose to require players to certify their age via Xbox Live before logging onto "Minecraft" after the Cinderella law was passed. Forcing younger players to log off while allowing older players to continue gaming proved too difficult for Microsoft's servers to juggle, so Xbox began requiring players to log onto Xbox Live to verify their age.
Advertisement
Technical problems
For a while, younger users found a way around the age verification rule by playing the Java edition of "Minecraft" on Mojang's servers instead of Microsoft's. However, Microsoft's decision to merge Xbox Live and Mojang accounts has left many young Korean players without "Minecraft."
Advertisement
Because Microsoft did not alter its servers in order to incorporate the law, it made it so that anyone younger than 19 would be prohibited from purchasing "Minecraft." Therefore, only adults would be able to purchase and play the game, making it nearly impossible for those falling under the Cinderella law to obtain a copy of "Minecraft" and essentially branding the game with an R rating.
A representative from the Ministry of Gender Equality and Family said, "Any responsible game company should make adjustments to different systems of different countries when it makes a policy change and make investments to protect its users." In other words, the ministry blames Microsoft for not figuring out the issue sooner. Because the controversial law has been in effect since 2011, Microsoft knew about the issue well before its acquisition of "Minecraft" and Mojang.
Advertisement
Microsoft hasn't commented on the Cinderella law or what it plans to do about making "Minecraft" available for all ages again. Hopefully, the company can find a solution soon, especially since "Minecraft" is still beloved all around the world. Fans are still discovering secrets hidden within the game, and likely will be for years to come — as long as they're able to actually play it.