We Finally Know What Master Chief Would Look Like In Smash Bros.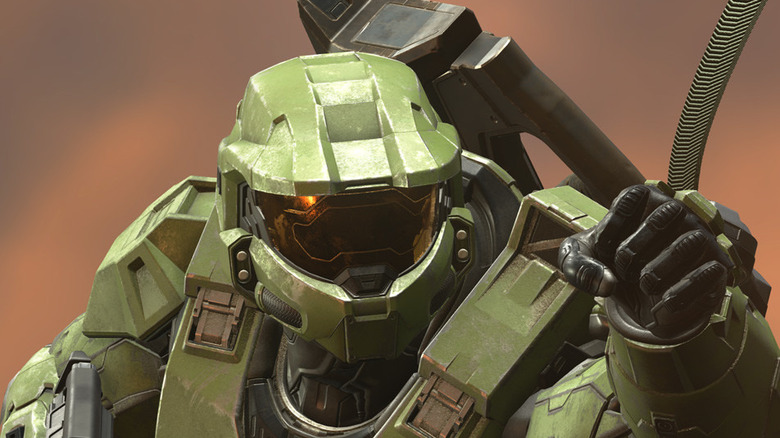 During Nintendo's E3 2021 Direct, the company announced that Kazuya from "Tekken" would be the next character added into "Super Smash Bros. Ultimate." Time and time again, fans have heard rumors that the next character in the game would be Master Chief from "Halo." Now, one fan has taken the time to mock up what Master Chief would look like if he was finally added to "Smash Bros." and Kazuya was left in the dust. Mutation Korno on Twitter shared their render and a link to a video where they went through the full process of building their ideal "Smash Bros." DLC fighter.
Advertisement
During E3 last month, 343 Industries community manager Brian Jarrard made it clear that know plans were in the works for Master Chief to join  "Smash Bros." However, he said that the "Halo" team would jump at the opportunity. "As a longtime fan of both games, it would be amazing to have a Chief/Smash announcement today," tweeted Jarrard. "Nothing is happening that I'm aware of, but maybe momentum this week can open a door."
"Smash Bros." director Masahiro Sakurai has also made it clear that the DLC character after Kazyua would be the final character added to "Super Smash Bros. Ultimate." If Master Chief were to finish the fight, it would certainly make for an explosive finale for "Ultimate."
Advertisement
Alternate color schemes and Doomguy
In Mutation Korno's render, Master Chief strikes a recognizable pose and rocks his "Halo Infinite" armor. They also put together a number of alternate colors for the character, since "Smash Bros." typically allows players to pick their characters with an extra splash of color. Mutation Korno also put together a Doomguy-inspired color scheme named "Doom Chief." This is particularly appropriate, since the "Doom" protagonist has long been a rumored DLC fighter, as well.
Advertisement
Master Chief has already proven his worth as a DLC character in other games. Just last year, the heroic soldier made his way into "Fortnite," so getting added to "Super Smash Bros. Ultimate" would be just another accolade for humanity's hero.
The final fighter is expected to be released by the end of the year, most likely sometime during the holidays. While previous "Super Smash Bros. Ultimate" DLC characters have not necessarily lined up with big game releases in the past, Master Chief being the final character would line up neatly with the Holiday 2021 release of "Halo Infinite."