Valve's Steam Deck Aims To Fix The Switch's Biggest Issue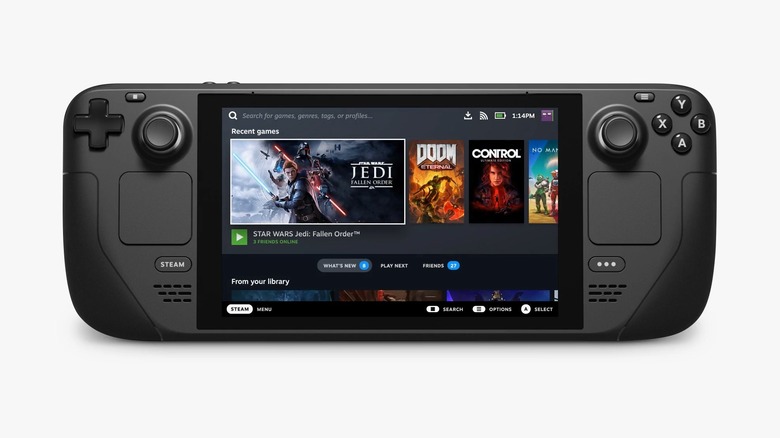 Valve
Gamers were so excited to snag a Steam Deck reservation that the Steam Store was crushed by reservations, but many fans still have questions about how the new console will work. The internet seems divided over Valve's Steam Deck, with a number of gamers questioning how it will compare to the current heavyweight of portable gaming, the Nintendo Switch. Now, Valve has promised that it is consciously avoiding one common Nintendo Switch issue in the creation of the Steam Deck.
Advertisement
Valve plans to pay special attention to the Steam Deck's joysticks, as stick drift — the tendency for faulty joysticks to react to incorrect inputs, even when not being pressed by a player — has been a major topic of conversation for both the Nintendo Switch and the PS5. Players began reporting issues with the PS5's DualSense controller early in 2021, just a few months after the console's release. However, nothing can compare to the continuing conversation surrounding Nintendo's Joy-Cons and their inevitable drift. Lawsuits keep piling up as more and more customers find their Joy-Cons drifting, making games virtually unplayable.
Luckily, according to a new interview, Steam looks to be side-stepping many of those issues with the Steam Deck.
Advertisement
Drift affects several consoles
IGN spoke with Valve directly to ask about the Steam Deck's hardware, and stick drift quickly became a topic of conversation. Hardware engineer Yazan Aldehayyat said, "We've done a ton of testing on reliability ...I think we feel that this will perform really well. And I think people will be super happy with it. I think that it's going to be a great buy. I mean, obviously every part will fail at some point, but we think people will be very satisfied and happy with this."
Advertisement
Steam Deck designer John Ikeda added that the team wanted to go with proven, reliable hardware when creating the Steam Deck. He said, "We didn't want to take a risk on that, right? As I'm sure our customers don't want us to take a risk on that either." Aldehayyat and Ikeda did not mention Joy-Con drift by name, but an emphasis on hardware, along with the Steam Deck's design, will undoubtedly bring to mind comparisons between the two handheld systems.
There are still a few things regarding the Steam Deck that need to be cleared up, including how some of Steam's biggest games will perform (or not perform) on the new platform. However, if the rush to preorder one of the handhelds is anything to go by, it's safe to say that many people are willing to take a chance and see what kind of device Valve has cooked up.
Advertisement