This Expensive Nintendo Accessory Isn't Supposed To Exist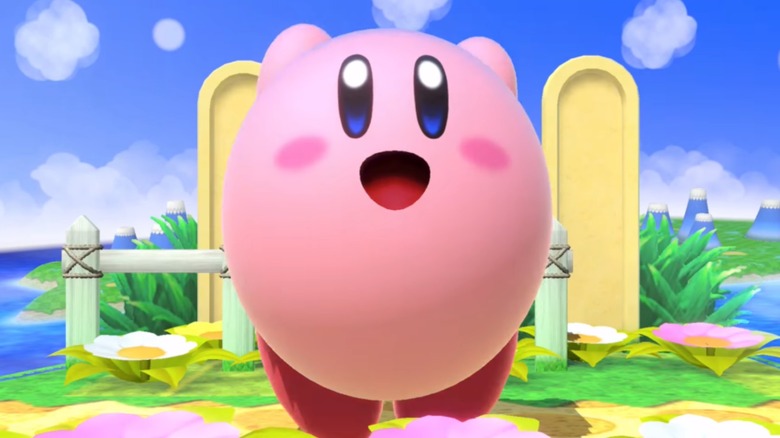 Nintendo has been a gaming giant for decades, and it's almost expected nowadays to see a classic Nintendo item sell for thousands of dollars. In fact, one copy of "The Legend of Zelda" recently sold for way more than most cars. Now, an obscure Nintendo accessory is adding its name to the list of expensive Nintendo artifacts. The kicker? It's not even supposed to exist.
Earlier this month, video game fan and collector Robert Anderson contacted Nintendo Life about his discovery of an exclusive Kirby e-Reader card that was used as a promotional item at E3 2002. According to Nintendo Life, the cards were put into promo packs, along with other cards, and were able to be scanned in order to win prizes. Winning cards were then confiscated and destroyed after being turned in, making it almost impossible for anyone to still have one — this kept people from claiming multiple prizes.
Press The Buttons mentioned that there were 100 second-place prizes and ten first-place prizes, so the odds of finding an unscathed first-place card in the wild were incredibly low. That begs the question of how Anderson was ever able to find one of these cards, never mind a first prize winner.
Where the Kirby card came from
Anderson explained the story of how he came across the rare E3 cards on Reddit. According to Anderson, he found three of the Kirby cards, along with another unopened pack from the event, in a random box he had collected. Before realizing what he actually had, Anderson explained he had planned to use the cards to play an elaborate prank on his wife.
"As a joke I thought I would swipe them all with my [Game Boy Advance] and eReader, and on the second card, fool my wife that I had the unfound 'first place' card," Anderson explained. "As I swiped, the [message] and jingle appeared like a ... message from [the] heavens."
While the find was undeniably cool for a collector, Anderson ultimately decided to sell the card. When asked why he wanted to part ways with the card on Reddit, he explained that he's just "not an eReader collector" and that he "[knows] there are people who cherish these and archive the data."
It looks like Anderson was right: The listing on eBay, which ends on July 22, has already racked up a few thousand dollars in bids. Let this be a lesson for Nintendo enthusiasts: keep everything. You never know when the price will skyrocket for an old Nintendo item. Who knows? You might already have some valuable Nintendo games hiding in your closet.