Genshin Impact's Latest Character Is A PlayStation Icon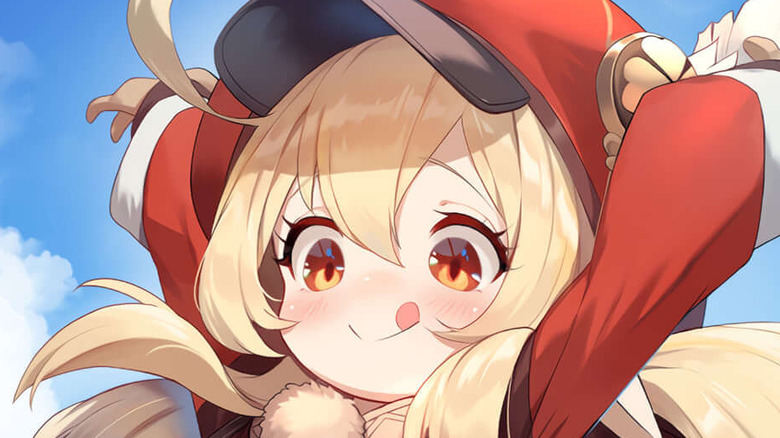 Online battle royale games frequently feature crossover skins, both to entice players and to promote other properties. For example, in 2018, Thanos came to "Fortnite" in a massive Marvel crossover event that saw players collecting Infinity Stones to save the day. "Fortnite" has also featured skins from plenty of DC Comics characters, including Harley Quinn. However, "Fortnite" isn't the only free-to-play game bringing new characters into the mix.
"Genshin Impact" isn't known for wild crossovers or promotional gimmicks. Instead, the gachapon-style game from miHoYo has typically stuck to its own cast of beautiful original characters and largely relies on its beautiful design and award-winning gameplay to entice players. Now a new hero has entered the world of Teyvat, and she's bringing her bow with her.
A new press release from miHoYo has announced that none other than Aloy from 'Horizon Zero Dawn" will be joining the ranks in "Genshin Impact." The developer's statement read, "Starting from Version 2.1, the legendary hunter Aloy from 'Horizon Zero Dawn' will join the Genshin Impact character roster as a five-star character." 
Even better, players will be able to get Aloy for free for a limited amount of time. However, there's a catch.
Some players get early access to Horizon Zero Dawn's Aloy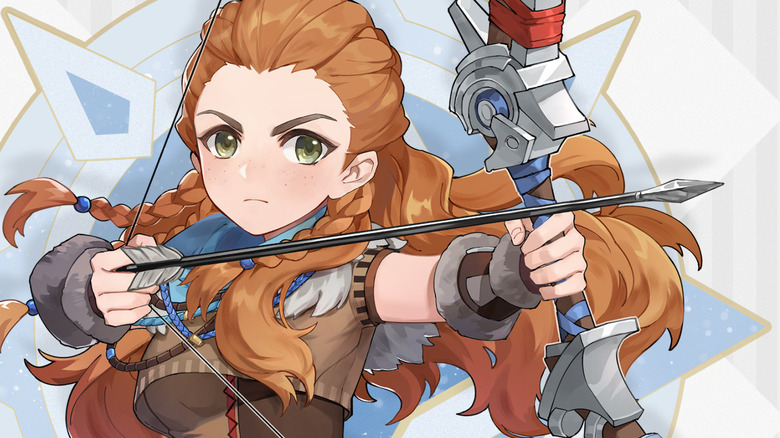 PlayStation players will receive early access to Aloy, along with a bow that provides Aloy with an undisclosed buff. Players felt disgruntled about this small detail, with a few fans commenting that it feels unfair for some players to have to wait over a month to receive the new character. 
The press release describes Aloy as a "Savior from Another World," hinting that she doesn't quite belong in Teyvat, but feels game to help others while she's there. There are still plenty of questions surrounding this surprise crossover, particularly because miHoYo did not specify what abilities Aloy might have in "Genshin Impact" or if she'll come with her own storyline.
However, miHoYo did release images of Aloy's design in "Genshin Impact," and she looks adorable. Remade in the signature anime-inspired style of "Genshin Impact," Aloy looks as cute as she is deadly. Her features may be a bit more rounded, but her gaze shows the determination "Horizon Zero Dawn" fans are familiar with.
"Genshin Impact" isn't the first game to feature Aloy outside of her original franchise. "Fortnite" introduced Aloy to its lineup in April 2021 via an exclusive cosmetics bundle and special event. However, Aloy marks a big move for "Genshin Impact," and opens up the possibility of more crossover characters in the future.