Why Pokemon Fans Are Worried About The Netflix Series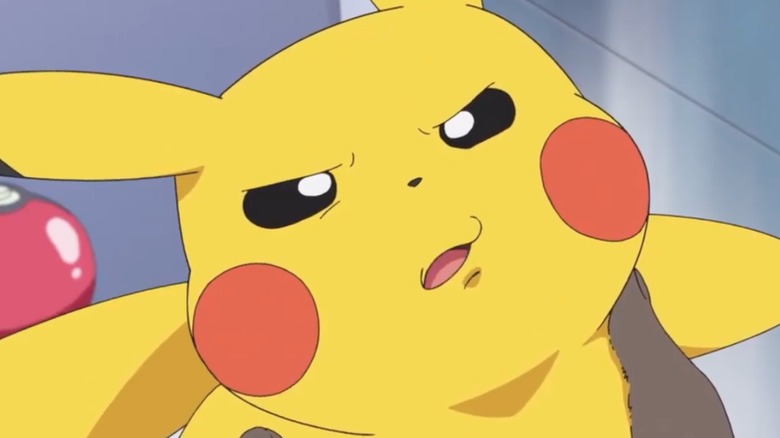 The Pokemon Company
According to Variety's sources, Netflix plans to create a live-action series with a similar feel to 2019's "Detective Pikachu." Joe Henderson, executive producer and co-showrunner of the Netflix show "Lucifer," will reportedly take charge of this Poké-production. No details on the plot and cast are available yet. However, fans are already weighing in with their thoughts regarding the news.
"Detective Pikachu," the first live-action "Pokémon" film, received positive user reviews on Metacritic, despite mixed feedback from critics. However, it's hard to say if Netflix will be able to pull off similar success. Many fans on Twitter already seemed to doubt the live-action production capabilities of the streaming service, with one person tweeting flat-out that Netflix makes bad movies, revivals, and video game adaptations. 
Others joked that the live-action show would turn into a dark genre experiment like "Detective Pikachu." One commenter imagined a series that focused on an aging Ash Ketchum busting drug deals with his alcoholic partner Pikachu, as if they were in "GTA" instead of a children's television series. Another individual photoshopped "Pokémon" hats onto characters from the popular teen drama "Riverdale." They remarked in a follow-up tweet, "Ash and his friends explore the struggles of everyday life in a small town while discovering the epic highs and lows of Pokemon battles."
But is it possible that Netflix has what it takes to bring Pokémon to life?
Does Netflix have the means to pull off a Detective Pikachu style Pokémon series?
The Pokemon Company
At least one Twitter user asserted that Netflix doesn't have the budget to produce a live-action Pokemon series similar to "Detective Pikachu" — but is that the case? According to Forbes, "Detective Pikachu" had a budget of around $150 million. Netflix has produced or distributed multiple live-action anime adaptations, including "Death Note," "Bleach," and "Fullmetal Alchemist," across its international branches. Variety reported in 2016 that "Death Note" cost between $40 and $50 million — about a third of the estimated budget for "Detective Pikachu."
Netizens may have reason to doubt Netflix's ability to reach the same quality seen in "Detective Pikachu." However, previous Netflix projects have featured appealing CGI, even if they don't have the money to match "Detective Pikachu" stroke by stroke. Netflix originals like "Stranger Things" and "A Series of Unfortunate Events" are just two successful examples of the studios' impressive CGI capabilities in their shows. It's still possible that the proposed Pokémon series could include some convincing effects.
Either way, not everyone was skeptical of the announcement. Some fans are actually looking forward to the upcoming Netflix-produced Pokémon series. In fact, some even like the idea of a Pokémon series mimicking the style used for "Detective Pikachu." Pokéfans will have to wait and see if this new show captures the spirit of the beloved video game series and anime.