You Can Beat Dark Souls 3 With Pizza, But Should You?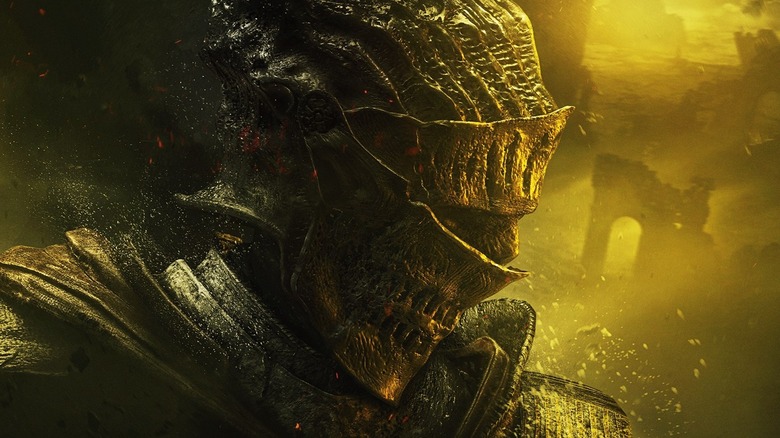 FromSoftware
As a part of the internet's continuing quest to make one of the last decade's most stressful video games, "Dark Souls 3," even harder, streamer Super Louis 64 debuted a new pizza-based controller.
Gamers interested in the new control scheme can get a taste of the action on Twitter, where Super Louis 64 describes the pizza controller as, "The worst thing I've done in my – this week. I'll just say this week." The streamer goes into greater detail about how he was able to manipulate a handful of pizza slices into a functional control platform on Twitch, where he spent nearly three hours attempting to play "Dark Souls 3" using a Pizza Hut box and its contents.
The entire experiment came together thanks to a USB Human Interface Device board, which is the same basic component at the center of a standard controller or keyboard. Super Louis 64 then ran a set of wires from that HID board to nine pizza slices, each of which sent a different command to the game. This gave Super Louis 64 four slices of pizza to control movement, in addition to an Attack Pizza, a Dodge Pizza, and even a Heal Pizza.
This is far from the first time gamers have come up with an inventive way of playing "Dark Souls 3." Here are some of the other methods that gamers have used to play FromSoftware's famous action RPG and how the pizza controller stacks up.
The pizza controller may not be as effective as the banana controller, among other issues
A dedicated community of fans has experimented with unconventional methods of controlling games from the "Dark Souls" series for years. Modders have beaten the first boss of the original with collaborative voting on Twitch Play, customized a toaster to control the game, and Super Louis 64 himself has even modified a Ring-Con to be compatible with "Dark Souls 3."
So how does the pizza controller stand up to the competition? In his Twitter clip, Super Louis 64 rates the setup as a "9/10" and favorably compares its price to a new PlayStation controller. However, the controller presents several problems that Super Louis 64 didn't encounter with some of his custom controllers.
Just six minutes into the pizza controller demonstration on Twitch, Super Louis 64 says, "I had to eat some pizza to test something earlier. It's pretty gross. I'm actually kind of... not sick of pizza? But I'm definitely getting there." Operationally, the biggest problem was grease accumulation, but there were other issues. For instance, the pizza controller also proved slightly more challenging to arrange, considering that the pizza slices took up a lot of desk real estate, something that Super Louis 64 says was less of an issue with his famous Banana Controller.
All in all, gamers should certainly enjoy "Dark Souls 3" in whatever way they prefer, but the pizza controller may not be the most efficient way to do so.