You Can Now Watch This Forgotten Street Fighter Movie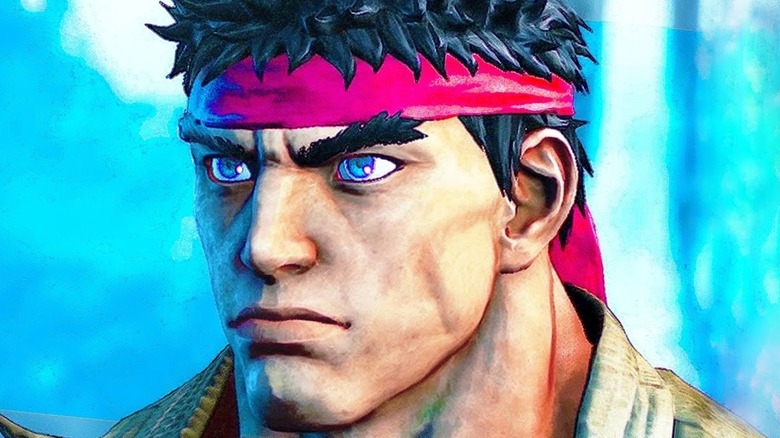 If you never played the game and only saw the original "Street Fighter" live-action film starring Jean-Claude Van Damme, you might have written off the source material as a video game that should never become a movie. Of course, it's only one of many flicks based on the popular fighting franchise. In addition to the multiple live-action interpretations of "Street Fighter," there have been plenty of animated adaptations to satisfy fans of the series. And now, there's another entry for English-speaking audiences to add to the list.
A particularly rare short film called "Street Fighter II – Return to the Fujiwara Capital" has finally been translated to English after 26 years, and it's available on YouTube in all its glory. According to the video's description, what makes it so uncommon is that it was a straight-to-video release in Japan. In fact, according to Kotaku, the VHS was only sold in limited numbers during an exhibition honoring the city of Fujiwara. It had one other release in 2004, when it was included as a DVD bonus for the full set of the "Street Fighter II: Ryu" manga, which was also a Japanese exclusive.
The owner of the channel, which was created exclusively to publish this English dub, had the DVD in their possession "for years" and finally decided to seek out a translator. Thanks to their efforts and the work of video game translation group shmuplations, English speakers can now enjoy this "Street Fighter" artifact.
If you're hoping for non-stop martial arts action, you may be disappointed. Fans who are up for a little history lesson, however, are really enjoying it.
The lost Street Fighter movie offers a fun history lesson
The channel's owner explains that the story follows "Ryu, Ken, Chun-Li and Honda [who are] sent back through time, where they learn about Fujiwara," which is historically considered to be the first true planned capital of Japan. It's definitely a quirky premise, but that doesn't mean you can't enjoy it.
Fans are finding the video to be a great example of how to make education fun. As one user in the comments wrote, "Huh, neat! I learned about the Fujiwara Capital while [enjoying] some Street Fighter!" For many "Street Fighter" fans, this video is something of a revelation. Even some die-hard series enthusiasts had no idea it ever existed. Who knows what other video game adaptations are hiding away, waiting to be discovered?
The YouTube community has done a lot to bring obscure game adaptations to a broader audience. Just recently, a fan began restoring the lost "Mario" anime movie from 1986 in 4K, which currently remains a work in progress. Considering the immense size of the YouTube community, there's a good chance audiences will be introduced to more content like this in the future.