Will GhostWire: Tokyo Release On PS4?
"Ghostwire: Tokyo" is one of the two final Bethesda titles coming to PlayStation platforms after Microsoft's acquisition of the company. "Ghostwire: Tokyo" and "Deathloop" will be exclusive to PlayStation platforms (and PC) for one year after release due to deals made prior to the acquisition. "Ghostwire" was announced with a cinematic trailer at E3 2019 and is being developed by Tango Gameworks, which previously made "The Evil Within" and its sequel.
Last year during the PS5 reveal event, "Ghostwire: Tokyo" was announced as a PS5 timed exclusive and was accompanied by a gameplay reveal trailer. While the trailer was mostly just spooky vibes, it did make it clear that this would be a first-person title where the player has supernatural powers to battle ghosts and other monsters. Unlike other games where the powers are secondary to the main weapons, the trailer makes it seem like the powers are the main way to attack enemies. Even as PS5s continue to be in short supply, people want to know if "Ghostwire: Tokyo" is releasing on PS4.
Ghostwire: Tokyo has not been announced for PS4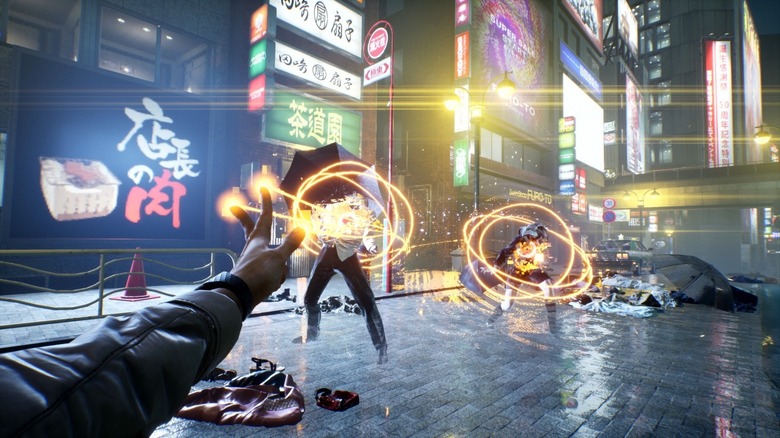 As far as Bethesda and Tango Gameworks have said, "Ghostwire: Tokyo" will only be on PS5 and PC when it releases. The game has a one-year PlayStation exclusivity deal, so it could theoretically come to Xbox Series X|S after that period. Aside from that, there has been no news about a last-gen version coming to PS4 at any point, and some of the marketing for the game frames it as current-gen only.
The game's official website also lacks any mention of other platforms and reads as if "Tokyo: Ghostwire" was made for the PS5 specifically. "Tango Gameworks is using the power and speed of PlayStation 5 to forge a beautiful, supernatural version of Tokyo like never before with unparalleled haptic feedback for every ability and character action with the DualSense Wireless Controller and advanced 3D spatial audio that immerses the player in an ominous city with dangers to uncover around every corner," the game's description reads.
"Ghostwire: Tokyo" was given a 2021 release window during its gameplay reveal trailer. However, Tango Gameworks recently announced that the game has been delayed to sometime early in 2022. The other Bethesda PlayStation exclusive, "Deathloop," is set to release in September and will only be on PS5 and PC, so it seems unlikely that "Ghostwire: Tokyo" will come to PS4.