Fans Can't Get Enough Of Dr Disrespect's Battle Royale Tease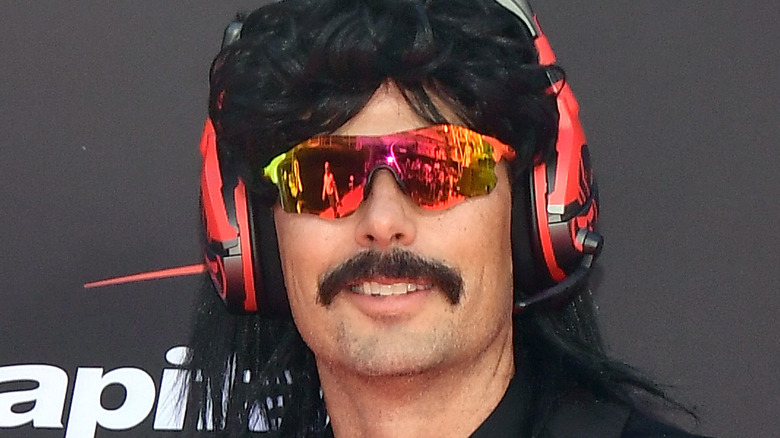 Matt Winkelmeyer/Getty Images
Popular streamer Dr Disrespect might be known for his chaotic (and sometimes pretty shady) antics, but there's a real guy underneath that "Ethiopian poisonous caterpillar" he calls a mustache. Of course, considering the Doc's bombastic persona, it can be easy to forget about Guy Beahm, the streamer who portrays the Two-Time. Before the fame, Beahm garnered considerable experience working on video games — specifically, map design. Now, he might be throwing his hat (or, rather, his mullet) back into the ring to design a game that Dr Disrespect's fans are very excited about.
Advertisement
In a since-deleted 2018 Twitch video, the Doc shared his idea for a battle royale game with a twist (via Dexerto). Rather than a horizontal circle slowly shrinking toward the center of a large map — à la "Warzone" or "Apex Legends," two fan favorite battle royale titles — Doc's concept would utilize a vertical structure.
Fast forward to May 2021. Dexerto reports that, during one of Dr Disrespect's streams, viewers noticed a telling folder on the Two-Time's desktop with the name "GameIdea_1." Despite the tantalizing tease, fans apparently waited until August 9 to ask what the mysterious folder held. 
While the Doc seemed hesitant to share what was in the folder, he eventually revealed its contents: a piece of concept art showing off a dark, foreboding machine room with the text "Vertical BR" — or "Vertical Battle Royale" — in the bottom left-hand corner.
Advertisement
Suffice to say, the Doc's chat exploded. But what did his fans learn from this tiny tease of the Doc's next big project?
Dr Disrespect's battle royale idea could be groundbreaking
While the Doc only showed off this single image to fans, the piece of concept art is actually more telling than it seems. In his aforementioned 2018 stream, Dr Disrespect explained the vertical mechanics of his proposed game. According to the Doc, the main action would take place in a tall skyscraper rather than a wide map and, as the match progressed, a fire would slowly consume the building from the ground floor up.
Advertisement
The concept art that the Doc shared during his August 9 stream certainly boasts a fiery ambiance. As the Doc explained during his stream back in 2018 (via Dexerto), a raging fire would envelop the burning building, forcing players to duke it out at exit points around the building as they ascend to the top. But one aspect of the Doc's game is even more compelling than the vertical nature of the map — and that's what takes place after a match ends. 
In his own words, Dr Disrespect explained, "Let's say I'm the last guy alive and I get into this helicopter and we fly to the next game." He continued, "Everyone else that is in that level are winners from the previous game and it's a bigger skyscraper." This new concept art certainly seems to tie into that description.
Advertisement
The Doc's idea for a battle royale title sure sounds compelling — and definitely worthy competition for "Call of Duty: Warzone," a game that the Doc has said he could fix in the past. Fans of Dr Disrespect will just have to wait until the Two-Time's next tease.