DanTDM Explains Where The Real Fun In Gaming Is - Exclusive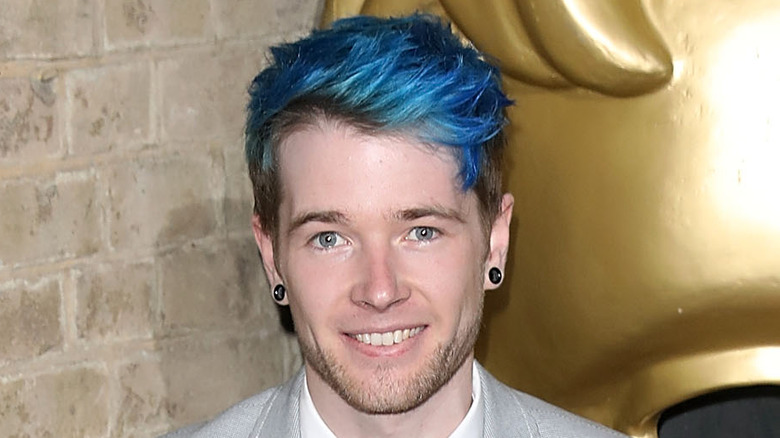 Tim P. Whitby/Getty Images
If there's anyone who knows how to find the fun in almost any situation, it's wildly popular YouTuber and "Minecraft" streamer DanTDM. The performer has been making videos out of anything and everything since he was a Tesco employee, consistently crafting family-friendly content that appeals to a broad audience.
A glance at DanTDM's YouTube channel shows that while the streamer leans heavily into gaming-related content, he's never shied away from filming interesting challenges and experiments to entertain his viewers. One of DanTDM's most popular videos involves searching for the world's most disgusting jelly bean, while another is an illustrated history of his life, all drawn on camera. His multitiered approach to content creation and commitment to finding the fun in just about anything has paid off, as the YouTuber once even took his show on the road to play four sold-out nights at the Sydney Opera House, (via BBC).
When SVG sat down with DanTDM for an exclusive interview ahead of his appearance in the Ryan Reynolds film "Free Guy," he shared some advice on how gamers can find entertainment in games that the developers may have never even considered. Here is how DanTDM finds the real fun in gaming.
DanTDM find entertainment in something that wasn't meant to happen
In "Free Guy," Ryan Reynolds plays Guy, an NPC who learns that his home, Free City, is part of a "Grand Theft Auto Online" style video game. To keep his world from being destroyed by the programmer who wants to shut the game down, Guy has to start playing it the wrong way. With that in mind, SVG asked DanTDM which game was his favorite to play incorrectly, and he had some interesting thoughts on the matter.
DanTDM explained that while there was tons of value in exploring a game the way the designer intended it — the first time through. "But when the real fun comes in is after you've experienced the story, and then play it from a different perspective." The streamer continued, "You're exploring all these intricacies and then start doing something where you find something that wasn't supposed to happen. That's where the most fun comes from."
Beyond that, DanTDM said that finding those things that weren't intended by the devs was the exact sort of content he seeks out when making his popular videos. He clarified, "Not to point it out, but because it's funny, it's entertaining." Keeping an eye open for unexpected scenarios to share has obviously worked out for DanTDM, and he seems to feel that all gamers can enrich their experience by diving past the basic gameplay on the surface.
"Free Guy" is now playing in theaters nationwide.