Why Call Of Duty: Vanguard's Polina Patrovia Sounds So Familiar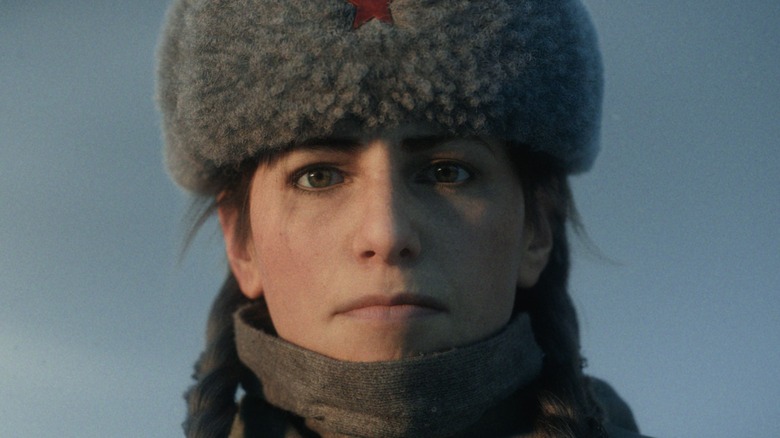 "Call of Duty" fans got a closer look at the long-running franchise's latest return to its original setting, World War 2, thanks to a detailed gameplay trailer for the upcoming "Call of Duty: Vanguard" shown at Gamescom Opening Night Live 2021.
That trailer showed off a playthrough experience that took viewers through a war-ravaged Stalingrad. The player character in this trailer is Polina Patrovia, who Activision has explained is a Russian soldier in the 138th Division. Gamers see Polina rely on a variety of stealth, sharpshooting, and close-quarters combat to survive a deadly environment crawling with enemies. While the gameplay trailer was light on dialogue, Polina already looks to be a fully formed character within "Call of Duty: Vanguard." As noted by Engadget, Polina is actually based on a historic figure, Lyudmila Paclivhenko, a sniper with hundreds of confirmed kills. 
In order to properly introduce viewers to Polina, the character's voice actor, Laura Bailey, joined Geoff Keighley onstage at Gamescom 2021. While gamers may not have recognized her at first glance, they have most likely heard her voice before. Here is why Polina Patrovia from "Call of Duty: Vanguard" sounds so familiar.
Laura Bailey had an award-winning performance in The Last of Us Part 2
As noted on IMDB, Laura Bailey's career as a voice actress that has spanned decades, but one of her most celebrated and recognizable performances was also one of her most recent. In 2020, Bailey appeared in "The Last of Us Part 2" as Abby, a controversial but memorable character.
Abby, who was a central figure in the divisive twist that players encountered partwar through the game, has never been the most popular character amongst a number of "The Last of Us Part 2" players. However, Sony made its support for her known when it dropped a new trailer highlighting the character, as well as Bailey's performance, ahead of award season in December 2020. That support was well-placed, as Bailey won Best Performance at The Game Awards 2020 and Best Performer in a Leading Role at the 2020 BAFTA awards.
While Abby is at the core of one of the most heart-wrenching scenes in "The Last of Us Part 2," she has also become an iconic part of modern video game history, and Laura Bailey deserves plenty of credit for bringing the character to life.
Gamers can find Laura Bailey in many popular video game franchises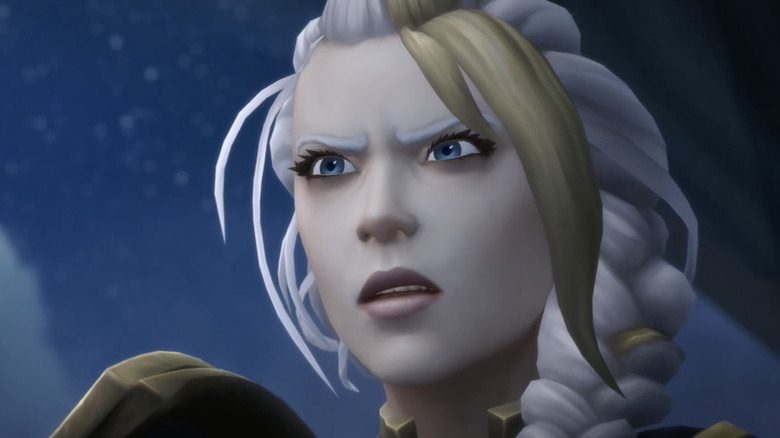 While Abby in "The Last of Us Part 2" may be one of Laura Bailey's most famous roles, she has been involved in many other important franchises, often playing fairly prominent parts.
Bailey has been an essential part of the long-running "World of Warcraft" series, in which she has voiced one of Azeroth's most powerful mages, Jaina Proudmoore, ever since release of the "Wrath of the Lich King" expansion. The actress has been featured in some of the more recent entries in the "Gears of War" franchise, where she played Kait Diaz. Bailey also had a recurring part in the "Uncharted" series, voicing Nadine Ross, a role for which she was nominated for her first BAFTA Award for Best Performer in 2018. 
In fact, taking a deeper look at her IMDB page reveals that Bailey has been a fixture in several massive franchises. In addition to voicing characters in more than one "Halo" game, she has portrayed Chun-Li in various "Street Fighter" titles. She's also voiced Black Widow in multiple projects based on Marvel properties, including 2020's "Marvel's Avengers." In other words, Laura Bailey is bringing plenty of experience to her role in the latest "Call of Duty" game.