This Nintendo Handheld Is Getting Its First New Game In 13 Years
After more than a decade, the Game Boy Advance is officially getting a brand new game — and it's all thanks to fans on Kickstarter. The GBA might seem like fairly old tech by today's standards, but its wide screen and backwards compatibility with the amazing catalogue of Game Boy and Game Boy Color games made it feel revolutionary at the time of its release (even if the Nintendo DS arguably stood out even more.) The GBA's last commercial game, "The Bee Game," came out all the way back in 2007, but dedicated fans have been keeping its life cycle going. Now they will finally have a chance to play a new game on the system 18% of fans consider their favorite handheld.
Advertisement
Nostalgia-fueled gaming has been seeing a resurgence in recent years, making now an ideal time for creators to throw some love to this 20-year-old console. Gamers don't even have to play on the original hardware, thanks to third-party systems like the Analogue Pocket.
The newest Game Boy Advance game is called "Goodboy Galaxy." According to its Kickstarter page, "it's an exploration focused platform game similar to 'Metroid' or 'Cave Story.'" Here's what fans know about "Goodboy Galaxy" so far.
Goodboy Galaxy looks like a good time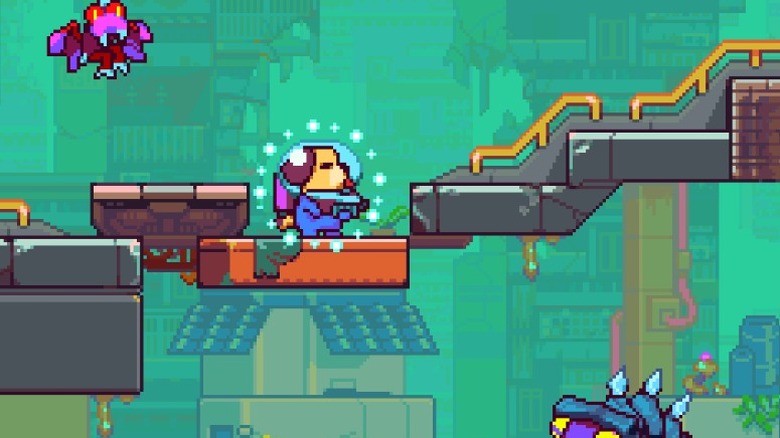 "Goodboy Galaxy" follows Maxwell, an adorable bipedal doggo in a space suit who must explore the furthest reaches of the galaxy in his experimental ship in order to save his homeworld from ecological collapse. The game features graphics similar to other titles found on the Game Boy Advance, appearing just as polished as many of the AAA handheld experiences that were available at the time. "Goodboy Galaxy" certainly doesn't look like it was developed by a team of just two people — but it was.
Advertisement
Rik Nicol and Jeremy Clarke are the UK and Netherlands-based game developers responsible for the title (with some help from their friends). According to the game's press kit, it "started life as a 3 day jam game, called 'Goodboy Advance' for the Ludum Dare 43 game jam, where it scored pretty highly in 'graphics' (3rd) and 'overall' (18th)."
Fans seemed ecstatic for the opportunity to play Nicol and Clarke's game. According to a report from NME, "'Goodboy Galaxy' went live on Kickstarter with a funding goal of £18,000. It currently has £62,000 pledged and has [comfortably] surpassed its goal less than a day after the campaign began." Now that number has surpassed $135,000. Developing "Goodboy Galaxy" for the Game Boy Advance is their first priority, but they intend to have an enhanced port of the game available for PC and the Nintendo Switch. Gamers can play a demo of the game for free on itch.io now.
Advertisement