This Blink And You'll Miss It THQ Anniversary Detail Has SpongeBob Fans Going Wild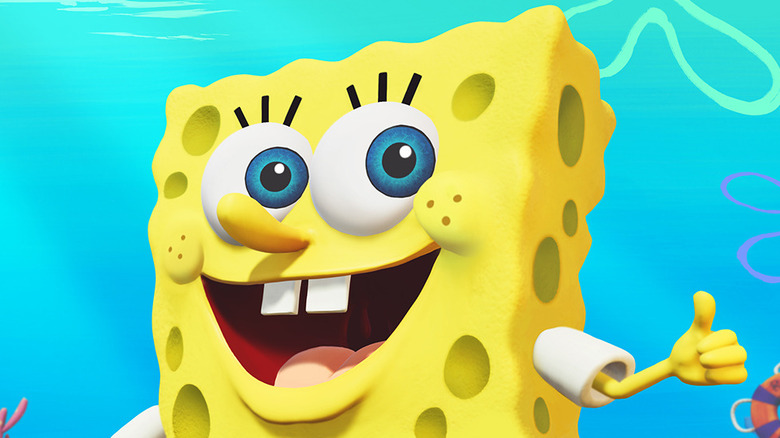 Austrian game publisher and developer THQ Nordic is getting ready to celebrate its 10th anniversary with a digital party on September 17, 2021, and "SpongeBob" fans are hyped. What exactly do these two seemingly unrelated pieces of information have to do with each other? Well, because of a blink and you'll miss it piece of artwork featured in the party promo Twitter event trailer, "SpongeBob" lovers have good reason to believe their favorite anthropomorphic sponge is coming back for another game.
For those who didn't catch it (and you're certainly not alone), the opening screen of the 90-second event trailer features a design with tiny images of different characters inside the number 10, including SpongeBob, Sandy, and Patrick. As TheGamer pointed out, it appears the characters are "being sucked into a whirlpool of some kind, which is a render we haven't seen for them before." On top of that, a surfing Sandy is featured wearing what looks like Karate Island gear, which she has not previously dawned in-game.
It's been a good year for "SpongeBob," so perhaps THQ Nordic is riding this wave of popularity by surprising fans with a whole new game they never expected. The cheerful, beloved square dude will be part of upcoming title "Nickelodeon All-Star Brawl," which has fans going absolutely crazy. It seems like that title might only be the beginning for a full-fledged "SpongeBob" comeback.
Multiple clues point to a new "SpongeBob" game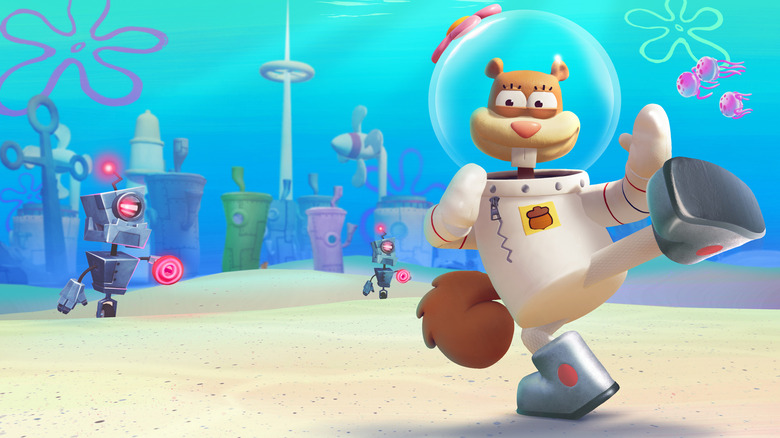 Beyond the initial announcement and footage, THQ Nordic provided additional details on Twitter, including the fact that The Game Awards executive producer and host Geoff Keighley will host the digital party. Six new games are promised, including "the return of legendary franchises and sequels to beloved games. We hope you are ready, kids!"
Those last few words are key. As many true "SpongeBob" fans will recall as they instinctually reply with an "Aye Aye, Captain," the opening song to the show features a very similarly phrased question: "Are you ready, kids?" If that's not a "SpongeBob" Easter egg, it's a massively confusing coincidence. With all these factors taken into consideration, the former seems like a strong possibility. Fans on Twitter certainly didn't miss the reference.
Though the presence of SpongeBob and his friends in the THQ Nordic promo might make sense because of the 2020 THQ Nordic "Rehydrated" remake of classic 2003 title "Battle for Bikini Bottom," the character artwork is reportedly new. As far as clues are concerned, "Battle for Bikini Bottom – Rehydrated" uses the phrase "Are you ready, kids?" as the first sentence of its official Nintendo listing. Things are looking awfully suspicious!
If you're interested in being one of the first to know about the potential new "SpongeBob" title, you can mark your calendar for THQ Nordic's first digital showcase on September 17 at 12 p.m. PST, set to stream live on YouTube, Twitch, and Steam. In the meantime, you might be interested in getting hyped with this guide to the best and worst "SpongeBob" episodes.