How This Pokemon Player's Mom Got Him Disqualified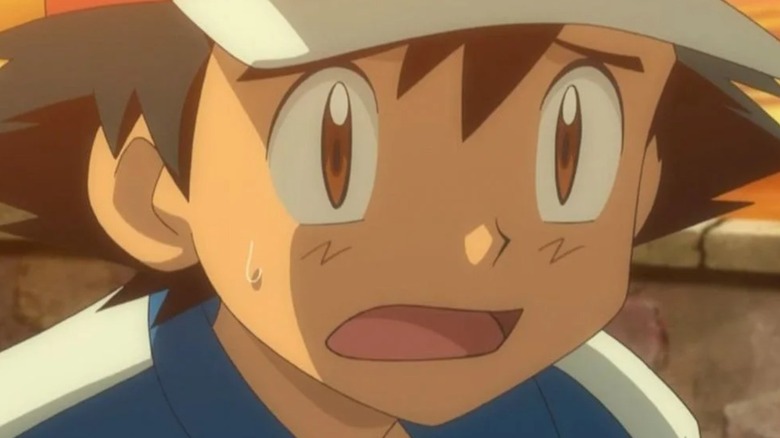 The Pokemon Company International
Despite what the news about scalpers ruining "Pokemon" might have you think, people still actually play with the cards and don't just keep them as expensive collectibles. The "Pokemon" Online Global Championships 2021 took place September 4-5, and the top "Pokemon" players battled with virtual paper pocket monsters. Luke "Celio's Network" Morsa, a "Pokemon" TCG enthusiast and content creator, was one of the competitors that advanced to Day 2. However, he suddenly found himself booted from the tournament. He later learned that someone reported him for talking to his mom on stream.
On Twitter, Morsa revealed that he was DQ'd because his mom was allegedly "discussing and suggesting plays while in the room" with him. He claims that he didn't receive any warning from moderators and didn't realize that it could be a disqualifying factor because of other accepted resources like Twitch chat, Discord calls, and notes.
Some might imagine the common stereotype of moms interrupting a game with a vacuum cleaner or call for dinner, but that isn't the case here. Morsa's mom actually is a trained "Pokemon" TCG player herself. A Pokemom, if you will. Unfortunately, she didn't make it into Day 2 of the tournament. Morsa explained in his tweet thread that she felt frustrated that she didn't make it to Day 2, so he wanted to share his experience with her. Morsa wasn't the only one who disagreed with the ruling, however.
Why Pokefans disagreed with this DQ
Morsa believed his mom didn't give him an advantage at any point. "I would not have allowed this if I felt immoral or advantageous due to the behavior," he said. However, his conversation with her counted as coaching in some "Pokemon" players' minds, so an anonymous source reported Morsa, resulting in disqualification. Morsa still gracefully accepted the ruling and left the VOD of him talking with his mother on Twitch to let the judges review the footage.
Morsa acknowledges that playing online isn't the same as real life, as he wouldn't have been talking with his mom during an in-person tournament. However, in-person play also negates the ability to use Twitch chat or Discord as well. Many commenters also disagreed with the DQ because of how these resources can lead to cheating just as easily.
"People grinding for players' cup coach each other in calls, play together, etc and do the same in limitless events," Morsa pointed out. "The thing that sucks is I wasn't trying to cheat, wasn't warned, and never felt like I had an advantage."
In Morsa's mind, he still earned 14th place. His supporters seemed to agree. "You'll always be 14th in this event to me," one commenter wrote.