The Met Gala Looks Even Better With Video Game Characters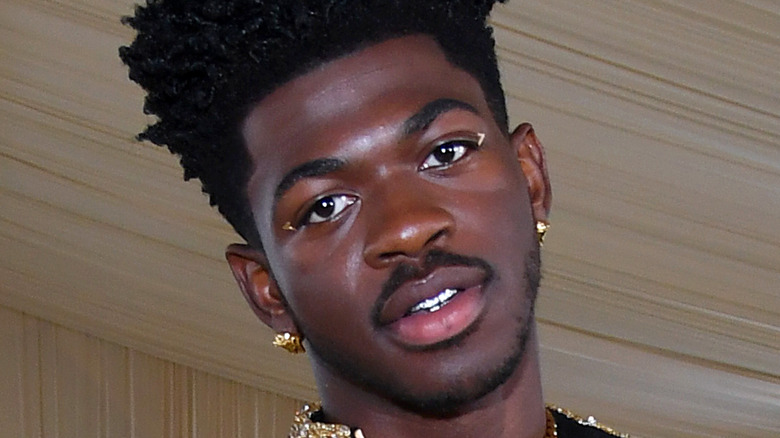 Kevin Mazur/mg21/Getty Images
The Met Gala, one of the most famous fashion events of the year, returned after a one-year hiatus due to COVID complications. So, like a pre-Halloween event, celebrities came back to the costume catwalk dressed like characters from a fantasy novel. Meme lovers lined up to unleash #MetGala jokes on Twitter and other social media sites as stars revealed their video game-worthy outfits. While the theme of the gala was "America," many viewers noted that the outfits on display resembled otherworldly video game characters more than anything else.
Of course, Kim Kardashian's strange, shadowy Met Gala look and other Hollywood hotties made headlines as usual. Lil Nas X in particular stood out with three outfits in one, all of which looked like something out of an anime. First, he wore a flowing regal cape. Then, he revealed a golden suit of armor before topping off the night with a fitted shimmering gold bodysuit. In short, many of these outfits looked like they took inspiration from video games and their over-the-top character designs.
Then, Twitter took it one step further by introducing video game characters themselves to the Met Gala.
Video game character fashion look book
Met Gala looks are supposed to be fashion-forward and avant-garde. However, they actually don't look that unusual next to JRPG bosses like Sephiroth. Fans connected design similarities between video game characters and high fashion by putting characters on the carpet next to wildly dressed celebs.
One user posted Cynthia from "Pokemon Diamond and Pearl" with her nearly floor-length black trench coat, accented with fur trim and buttoned at the chest. Her flowing platinum blonde hair and nubby black hairpins completed the look. Another user posted Isabelle from "Animal Crossing" with a green gingham dress and matching hair ribbon in her floofy yellow-furred mane. More low-key examples, such as "Persona 5" characters dressed in formal wear, appeared too.
It wasn't only video game characters, either. Many anime and miscellaneous fandom-related memes also circulated. Someone photoshopped Shikamaru, a shadow-controlling ninja from "Naruto," into the tail of Kim Kardashian's faceless black full-body outfit. Others just posted groups of anime characters in rainbow-haired friend groups, strolling the Met Gala red carpet. 
The Met Gala actually has some charitable interest toward the arts at heart, even if it seems silly to walk around in questionably fashionable, likely not functional clothing. It's also a fundraiser. Vogue describes it as the "fashion equivalent of the Oscars," where designers, models, and other celebs purposefully dress in the wildest clothes possible to raise money for the Metropolitan Museum of Art's Costume Institute. 
Sephiroth might not have been formally invited to this year's Met Gala, but who knows? At least video game fans can enjoy the party online while celebrities fundraise in real life.