This New Gaming Soundbar Costs As Much As The PS5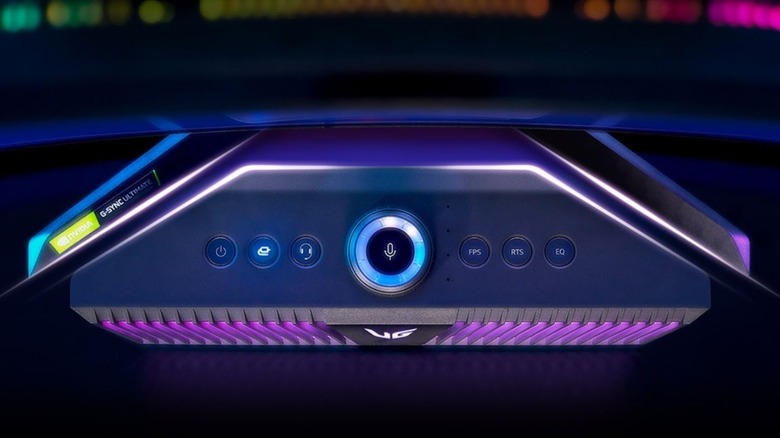 LG
We may receive a commission on purchases made from links.
Like most gaming accessories that come in a variety of colors, shapes, and sizes, soundbars are offered in a range of prices. By and large, however, soundbars can get pretty pricey, and a new gaming soundbar from LG has proven to be on the more expensive side of things, as it costs about the same as a PlayStation 5, and is easier to get, too. 
Running at a steep $499.99, the UltraGear GP9, equipped with a microphone, a DTS Headphone: X, and a Hi-Fi Quad DAC audio system, the Ultra GP9 is LG's latest premium gaming soundbar. "Designed to deliver a lifelike audio gaming experience," according to the device's description on its product listing on LG's website, the UltraGear GP9 also uses LG's 3D Gaming Sound technology, which "creates surround sound customized to what you're playing, even without a headset."
The soundbar has two different sound modes, including FPS and RTS sound modes. The former "upgrades your in-game sound with virtual 7.1 channel surround sound, letting you accurately locate your enemies and allies as they approach you from the left or right" where the latter is more suited to real-time strategy games. It expands "the sound field for a more realistic, immersive experience" as it applies to RTS games in addition to other genres, such as racing. However, different sound modes aren't the only advantage the UltraGear GP9 offers.
The UltraGear GP9: A force to be reckoned with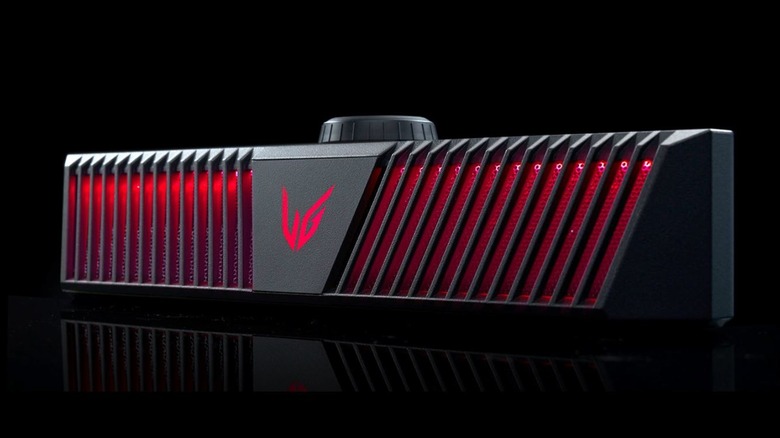 LG
The soundbar is also voice chat-enabled, meaning a headset isn't required to communicate with other players in-game. The UltraGear GP9 specifically implements Clear Voice Chat technology, which means that players' voices can be easily distinguished from other bits of audio picked up either from the game or outside noises. This feature could eliminate the need for gamers to wear sometimes uncomfortable headsets to communicate with their teams, and might make streaming easier for console players as well. 
Those who purchase the soundbar can also set up custom sound field EQs with specific games. These can be adjusted using LG's separate XBOOM app. This eliminates the need for a sound card, which is typically needed for modifying the power of a computer's audio capabilities.
The UltraGear GP9 also offers a few different modes of personalization. Like many keyboards and other gaming accessories on the market, the soundbar offers custom RGB lighting and comes in a compact design, specifically modeled after the typical V shape of many computer monitor stands. The soundbar isn't just meant for computer hardware, however. As the product listing indicates, the UltraGear GP9 is also compatible with home gaming consoles as well as other audio devices and compatible headsets.
At $499.99, the UltraGear GP9 isn't as forgiving as some of the more budget-conscious soundbars on the market, but it pales in comparison to some such as the VIZIO Elevate Sound Bar, which is generally priced at $999.99 on Amazon. In any case, it may well be worth investing in if you're looking to purchase a premium audio-enhancing soundbar.